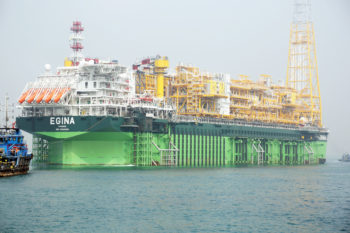 The Deputy Managing Director, Deep Water at Total Exploration and Production Nigeria, Ahmadu-Kida Musa, said on Monday that the Egina Floating Production Storage Offloading (FPSO) will in the coming weeks depart to the Egina oil field in offshore Port Harcourt.
Musa who disclosed this at an oil and gas conference in Abuja said the $3.3 billion Egina FPSO with 200,000 barrels per day capacity would account for 10 per cent of Nigeria's crude oil production.
He explained that the FPSO, which had the detailed engineering of its topsides executed in-country after it arrived from South Korea, by Samsung with a consortium of Nigerian engineering companies is expected to begin producing 200,000 bpd of oil from the field.
He said, "Egina is the latest of Total's deepwater developments and the third project of its kind developed by Total in Nigeria, after Akpo and Usan. These projects have brought progressive increase in levels of Nigerian Content and this is well illustrated by the percentage of total project workload performed in Nigeria: from 44 percent for Usan, Total recorded 60 per cent for Akpo and now 77 per cent will be achieved for Egina, just before the FPSO sails away from the SHI-MCI Yard in LADOL Island, Lagos where it is currently moored for topsides integration works."
"It is the deepest offshore development carried out so far in Nigeria, in water depths of over 1,500 metres and the project is designed to produce 200,000 barrels per day of oil at plateau.
"In addition to the oil, the Egina field will produce gas. Associated gas will be partly re-injected into the reservoir to maintain reservoir pressure, and partly channelled to supply the domestic gas market."
Musa said that Nigeria was proud Egina has advanced its local content policy to new levels in many domains, adding that it, amongst others, led to the development of a new fabrication and integration yard which is reportedly Africa's first FPSO integration quay.