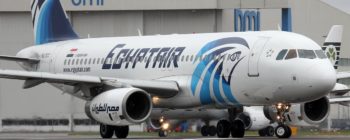 Egypt's public prosecutor denied on Monday reports that a cockpit fire may have caused a 2016 Paris-Cairo EgyptAir flight crash, reiterating that forensic information had shown traces of explosive materials on the victims' bodies.
In rare criticism of another country's crash probe, the French BEA air accident investigation agency said last week that Egyptian authorities had apparently not followed up on its calls to further investigate the crash that killed 66 people and that a cockpit fire was the "most likely" reason for the incident.
The Egyptian Public Prosecution said in a statement sent to journalists it was still conducting its investigation into the crash "in full cooperation with the French investigation side".
"Reports on news sites suggesting that the cause of the crash was a fire inside the cockpit have no basis," the statement said, in an apparent reference to the BEA statement.
"The investigations are still ongoing and the report from the forensic medicine authority has confirmed the presence of traces of explosive materials on the victims' body fragments as well as some metal, plastic and solid materials from the plane wreckage that were stuck to the body parts at the crash scene."
Twelve of those killed in the May 2016 crash were French nationals.
In its statement, the BEA said its proposals concerning further work on the debris and recorded data were not, as far as the BEA knew, followed up.
"The BEA considers that the most likely hypothesis is that a fire broke out in the cockpit while the aeroplane was flying at its cruise altitude and that the fire spread rapidly resulting in the loss of control of the aeroplane," the statement said.
It noted that Egyptian investigators had not published their final report, adding that the BEA was ready to resume work with Egyptian authorities if they were to resume work on the probe.
International regulations stipulate a report should come out within a year of a crash.
France and Egypt have in the past disagreed over how crash investigations are handled.
Agency Report