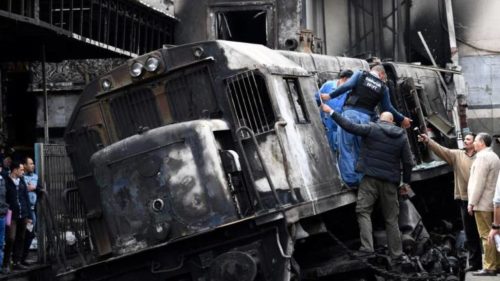 Over 25 people were killed and 50 injured at Cairo's main train station when a train crashed through the buffer stop, derailed and exploded on Wednesday, officials said.
The incident prompted the resignation of Egypt's Transport Minister, Hisham Arafat.
Prime Minister Mostafa Madbouly who accepted the resignation of Arafat, said at the scene that the incident would be investigated and anyone found responsible held to account.
Footage circulating on social media from a security camera inside Ramses station showed the train failing to stop as it arrived at platform six, smashing through the buffers and a metal end railing as passengers carrying luggage walked by.
An eye witness, Ahmed Abdeltawab said the platform had been crowded with people waiting for another train.
"The fire overwhelmed them and they ran while they were on fire until they fell metres from the incident," he said. "The scene was terrifying."
The north African country has one of the oldest and largest rail networks in the region and accidents causing casualties have been common. A train collision in Alexandria killed more than 40 people in August 2017.
The deadliest accident on Egypt's railways dates back to 2002 when 373 people died when a fire ripped through a crowded train south of the capital.
Source: Reuters