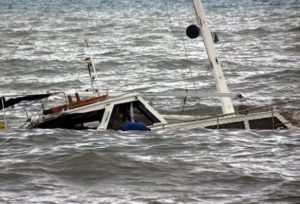 Eight persons were reported drowned in Guma Local Government Area of Benue State when a passenger boat capsised on River Benue Thursday night.
Another three elderly men were said to have been killed by irate youths who protested early Friday morning the death of the eight persons, accusing the elders of been responsible for the boat mishap.
The incident was said to have occurred at Kambe when the passengers, 13 in all; were returning from a burial ceremony and heading to Agasha all in Guma, the local government of the state governor, Samuel Ortom when the boat capsized.
According to report two bodies were recovered late Thursday while three bodies were said to have been recovered early Friday morning adding that three persons were still missing as at the time of filing this report.
Confirming the report, the sole administrator of Guma local government, Anthony Shawon said that the mishap was caused by overload coupled with windstorm, adding that the passengers were also drunk.
According to the chairman, 'the report I got is that the people were mourners who were heavily drunk, they refused to heed to advise of the boat paddlers who had insisted they would ferry them in two batches'.
"I also learnt that at the time they were crossing the river, their was heavy wind, all these might have been responsible for the mishap, we have been able to recover five bodies",
Speaking on the protest, the council boss said, 'the civil defence alerted me this morning that some youths were protesting, on arrival in Gbajimba, I saw there was protest as the youths made bonfire alleging that the incident has a spiritual connotation."
"Unfortunately,three elders were killed in the protest and the official vehicle of district head in the area was snatched".
"I tried to calm them down. But they went wild pursuing every elder in the area. I, then saw another group of Indian hemp smokers with machete parading the area, I reported the incident to the soldiers and mobile police who swiftly intervened and restored security to the area".
'It is a sympathetic situation in the area. However the youths are suspicious about the whole thing alleging that some elders are behind it but I don't believed them because it is a case of overloading, over drunk and over speeding", Shawon said.
The Benue state police command PPRO, ASP Moses Yamu confirmed the incident, saying there was a mob action in Gbajmgba town yesterday and that normalcy has turned to the area.