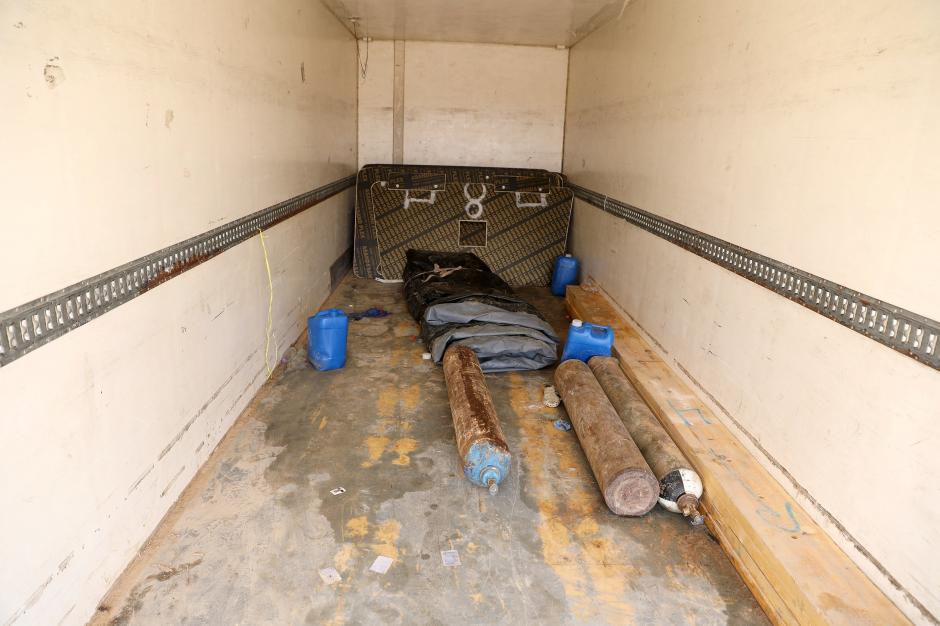 Eight migrants, mostly children, suffocated to death trapped in a refrigerator truck carrying around 100 people in western Libya, security forces said on Monday.
Some of the 90 who survived had to be admitted to hospital for respiratory problems, according to the regional security forces in the western city of Zuwara.
Six children, a woman and a young man died of suffocation, they said.
It was not immediately clear how long the migrants — from Bangladesh, Pakistan as well as Arab and African countries — were left by smugglers locked up in the vehicle just east of Zuwara.
"We were tipped off about a suspicious truck east of Zuwara, near the Mellitah gas complex," Hafed Moammar, a spokesman for the security forces in Zuwara, told AFP.
"We followed up on the tip and seized the refrigerator truck used to stock fish and found inside 100 migrants … (some) asphyxiated and in a serious state of fatigue," he said.
The hospital in Zuwara, a coastal town located 100 kilometres (62 miles) west of Tripoli and near the Tunisian border, was placed in a state of emergency to deal with the large number of migrants admitted, it said.
The statement did not say how many migrants had to be hospitalised but indicated that some of them were in serious condition and suffering from respiratory problems.
Rocked by lawlessness since the NATO-backed 2011 uprising that toppled and killed longtime dictator Moamer Kadhafi, Libya has become a key transit country for illegal migration across the Mediterranean Sea.
The migrants, who are exploited by smugglers, often try to make the treacherous crossing on unseaworthy boats, hoping to reach Italy and make their way further inland in Europe and start a new life.
Smugglers often use trucks to move migrants before they put them on boats for Europe.
In February, 20 migrants were killed in a truck accident as they were being moved around while seven died of suffocation in June 2017 inside a refrigerated truck.
The security forces said a manhunt was underway for the culprits of the latest incident "who have been identified".  
AFP