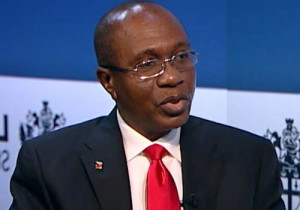 The Governor, Central Bank of Nigeria (CBN), Godwin Emefiele, has been elected as the Chairman of the International Islamic Liquidity Management Corporation (IILM).
CBN's acting Director, Corporate Communications,  Isaac Okorafor, announced this in a statement on Friday in Abuja.
The statement stated that by the development, Emefiele had also become the Head of the General Assembly of the financial body, comprising nine countries and Islamic Development Bank.
IILM was established by central banks, monetary authorities and multilateral organisations to create and issue short-term Shari'ah-compliant financial instruments to facilitate effective cross-border Islamic liquidity management.
By creating more liquid Shari'ah-compliant financial markets for institutions offering Islamic financial services (IIFS), the IILM aims to enhance cross-border investment flows, international linkages and financial stability.
Its current shareholders comprised central banks and monetary authorities of Indonesia, Kuwait, Luxembourg, Malaysia, Mauritius, Nigeria, Qatar, Turkey, the United Arab Emirates and the Islamic Development Bank.