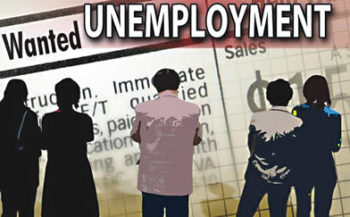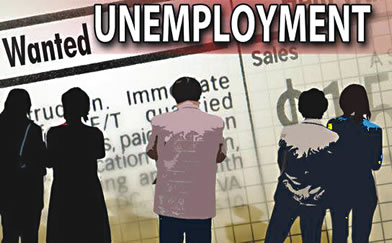 The National Bureau of Statistics (NBS) says the country's unemployment rate has risen from 13.3 per cent in the 2nd quarter to 13.9 per cent in the 3rd quarter of 2016.
This is contained in the Unemployment/Under-employment Report for 3rd Quarter of 2016, released by the NBS on Friday in Abuja.
The report stated that the number of unemployed in the labour force increased by 555,311 persons.
According to the report, the underemployment rate rose from 19.3 per cent in second quarter to 19.7 per cent in the third quarter.
The report said that unemployment covered persons (aged 15–64) who during the reference period were currently available for work, actively seeking for work but were without work.
Underemployment, however, occurs when a person works less than full time hours, which is 40 hours, but work at least 20 hours on average a week.
It explained that underemployment could also happen if a person works full time but are engaged in an activity that underutilises his skills, time and educational qualifications.
The report, however, stated that the economically active population or working age population (persons within ages 15 and 64) increased from 106.69 million in second quarter to 108.03 million in the third quarter.
"This represents a 1.26 per cent increase over the previous quarter and a 3.57 per cent increase when compared to the third quarter 2015.''
In 3rd quarter, the labour force population (i.e those within the working age population willing, able and actively looking for work) increased to 80.67 million from 79.9 million in second quarter.
It said, "This represents an increase of 0.98 per cent in the labour force during the quarter.
"This means about 782,886 persons from the economically active population entered the labour force, that is individuals that were able, willing and actively looking for work.
"This magnitude of increase between second and third quarter is smaller when compared to first and second quarter, which was an increase of 1.39m in the Labour force population.
"Within the reference period, the total number of persons in full time employment who (did any form of work for at least 40 hours) decreased by 272,499 or 0.51 per cent.
"This figure decreased when compared to the previous quarter, and decreased by 1.66 million or 3.01 per cent when compared to third quarter of 2015.''
The report stated that with an economically active or working age population (108.03 million) and labour force population (80.67 million), 27.36million persons within the economically active or working age population decided not to work.
It said that the population decided not to work for one reason or the other in the third quarter, hence they were not part of the labour force and could not be considered unemployed.
According to the report, there is eight consecutive rise in the unemployment rate since 4th quarter of 2014.