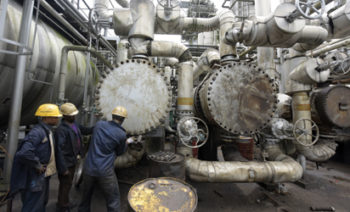 Recently Nigerians were treated to a news story where the Minister of State for Petroleum, Ibe Kachikwu, said he would walk away if Nigeria is not self-sufficient in petrol production by the year 2019. The Minister described himself as a man of his words and said he had kept all of the promises he made since he became a public official in Nigeria, vowing to resign if he does not deliver on this particular promise.
To many, this statement is reassuring, a soothing tonic, an oasis to men paralysed by sunstroke; to some others privy to similar statements by public servants in the past, the Minister is giving himself a tall order or he's just being plain mischievous. But Kachikwu sounded convincing.  However like they say in local parlance, "talk na do." It is one thing to say a thing and another thing to carry it out.  Having been assaulted for years by official deceit, Nigerians take with a pinch of salt promises made by government officials. Between the making of such statements and the performance is a lot of credibility gap that has left official dignity at the mercy of filthy dogs.
The idea of ending fuel importation in 2018 and 2019 started with the government of GoodluckEbele Jonathan. It was the then Industry, Trade and Investment Minister, OlusegunAganga, who told the nation the Jonathan administration's plan towards ending the country's depressing regime of fuel importation in 2018 and highlighted its conscious efforts at making more of non-oil exports to boost revenue.
Based on the industrial revolution launched in 2012, by the administration, Aganga said, "There are many sectors we should have developed over the years, but for decades, we relied entirely on exporting raw materials. That era has gone." The Minister said stopping the importation would save the country a minimum of $10 billion, having spent about "three billion dollars importing steel, about six billion dollars importing cars and spare parts, about $1.7 billion on sugar."
Contrary to Aganga's hope, his counterpart in the Executive, then Petroleum Minister Diezani Alison-Madueke who was in charge of the country's oil and gas assets for over four years, in an address at a function practically dismissed hopes of ending fuel importation by some African countries, including Angola, Uganda, Mozambique and Nigeria in the next 20 years.
For years, Nigeria has been reeling under the weight of petroleum import despite immense deposit of the natural resource in the country. A report released by the National Bureau of Statistics (NBS) showed that Nigeria spent N2.596 trillion to import 24.4 billion litres of petroleum products consumed in the country last year. Analysis of the NBS petroleum products imports statistics for the last quarter of 2016 indicated that the country spent N2.019tr on petrol, N505.8bn on diesel and N70.76bn on kerosene imports last year.
Premium motor spirit (PMS) otherwise called petrol dominated the 24.42bn litres volume of petroleum product imported with 18.81bn litres.  4.89bn litres of diesel was shipped into the country while 713.79m litres of kerosene was imported in the year under review.
Fuel imports often account for around 16-20 percent of Nigeria's total imports, according to NBS data, ranking among the world's top 15 countries where fuel imports comprise large share of total imports, data sourced from World atlas showed.
Despite being Africa's top crude oil producer, Nigeria imports more than 80 percent of its petroleum products and it is the only major oil exporting country that imports the largest volume of petrol in the world because of its low domestic refining capacity.
Analysis of the NBS showed that the month of May 2016 recorded the highest volumes of petrol imported into the country at 2.02bn litres valued at N249.88 billion.
"This coincides with the May 11th, 2016 official announcement by Kachikwu, on the deregulation of PMS importation aimed at improving its supply nationwide," the report stated.
Without doubt, the existing, under-performing four refineries, are part of the general malaise. That the bulk of Nigeria's crude oil is refined abroad is a pointer to the high level of inefficiency in the industry. The four refineries including the old Port Harcourt Refinery (1965), the Warri Refinery (1978), the Kaduna Refinery (1980) and the new Port Harcourt Refinery (1987) are all functioning at sub-optimal capacity, thanks to official ineptitude and governments whose maintenance culture is almost zero.
While, Kachikwu's promise presents great hope, there are many waiting to prove him wrong. If past initiatives and especially the conflicting policy signals from previous governments are anything to go by, disappointment may be an end-result which Nigeria does not deserve. Undoubtedly, the plan is the most desirable option for a country, which wastes too much money importing what it can produce. Painfully corruption and lack of political will have prevented the nation's leaders from doing the right thing.
Kachikwu however has been vocal about ending fuel importation. According to him, the importation of petroleum products into the country is a fraud and must be put to an end if the nation is to make progress in the oil and gas sector.
In his ministerial address at the recent Nigeria Oil and Gas Conference in Abuja, tagged 'Reforming and repositioning the oil and gas industry in Nigeria' Kachikwu said that the government through the Nigerian National Petroleum Corporation (NNPC) must meet its target of ending petroleum products' importation between 2018 and 2019.
He declared, "Importation of petroleum products will have to cease. There's absolutely no reason why a country with the resources that we have will continue to import petroleum products. It is a shame on this country, it is a fraud on the system and we are going to end it.
"We are committed to the 2018/2019 template, because it is something we have to do. The refineries are not performing to capacity and it is not going to be easy, but we have to end importation of petroleum products.
"If we do that, the downstream will survive; but if we don't, then by the first quarter of 2020, the Dangote refinery will come on board. And if that happens, it then means we will have scraps in our hands as refineries. Therefore, there's the urgency of now to end importation," he affirmed.
Nigerians have divergent views on the possibility of ending fuel importation by 2019 as promised by the Minister. While some believed it is achievable, others said carrying out such a gargantuan assignment is like walking a tight rope. Some argued that the cabal benefitting from the present situation will rather die than allow the minister have his way.  Some gave conditions that will make or mar the plan.
A Professor of Economics and Director, Centre for Petroleum, Energy, Economics and Law, University of Ibadan, AdeolaAdenikinju, said that for sounding so confident, the Minister may have other information that Nigerians do not have. He said that by 2019 Dangote refinery will be up and running and there are other refineries in the pipeline, adding that if the government is sincere enough and focused at it by aggregating the right indices, the target is achievable.
Chairman, Petroleum Technology Association of Nigeria (PETAN), Bank Anthony Okoroafor, said to achieve such a feat, there must be peace in Niger Delta. He noted that to sustain the relative peace in the Niger Delta, federal and state governments must sustain the amnesty programme initiated to lure ex-militants away from the creeks where they indulge in pipeline vandalism, illegal oil bunkering as well as kidnapping for ransom. The $1bn clean-up of Ogoniland which was inaugurated by the Buhari administration last year must be vigorously pursued. If the government can do all that, there would be calmness in the region and a boost to achieving that feat.
JideOjo, writer and public commentator said that one of the surest ways to end fuel importation is to ensure that the needed Turn Around Maintenance (TAM) is carried out on the government-owned refineries in Port Harcourt, Warri and Kaduna. "Once we can get the refineries to work at an optimal level, we would be one leg out of fuel importation. Again, there is a need for proper deregulation. Market forces of demand and supply must be allowed to determine prices of all petroleum products. The N145 per litre has become unrealistic now due to the scarcity of foreign exchange to enable fuel importers to bring in refined products. Depot price which was around N130 as of May 2016 has jumped to N142 per litre. By the time other ancillary cost such as transport is added, it becomes unrealistic to sell profitably at N145 per litre." Even now, he said that some fuel stations in the South-East and North-Central have stopped lifting fuel from the depots or alternatively buy at N142 and sell for about N150 which is above the approved control price.
Friday Okoh, an oil servicing peronnel said that if we are to exit importation of refined petroleum products in 2019, the Petroleum Industry Bill recently passed by the National Assembly must be assented to and put to work immediately.  He insisted that the non-passage of the bill has held up multibillion dollar investment in both the upstream and downstream sectors of the oil and gas sector. "The indifference of foreign investors in the oil industry was due to the cloud of uncertainty currently enveloping the sector. The passage of the bill, which will be highly beneficial to oil producing communities, is expected to reduce militancy in the Niger Delta region," he noted.
Executive Chairman, Pipeline Professionals Association of Nigeria (PPAN), Geoff Onuoha said that Pipeline vandalism and illegal oil bunkering have to be decisively dealt with if we are to stop fuel importation by 2019. According to him, carrying petroleum products by trucks increases the cost price of the products apart from the high risk of the haulage due to the highly inflammable nature of the products. So transport through pipelines remains the cheapest means of distributing petroleum products."
But Oloyo Junior, a depot staff said that while the above suggestion by Onuoha sounds meaningful, a situation where stealing of petroleum products at an industrial scale takes place as is currently happening in the country, it will be difficult to attain self-dependency in the production of refined products.
KelechiOgbamgba, a journalist said "I do not doubt the Minister but corruption is another menace that plagues our oil and gas sector. Nigerian Extractive Industries Transparency Initiative has repeatedly published reports of high level of fraud and corrupt practices in the country's oil and gas sector.
He said that some cabal that are currently benefiting from importation of refined petroleum products will not want their flow to stop. "So it should be expected that they will fight with everything to ensure that we do not remove the yoke of importation of refined petroleum products off our neck."
Copyright Ships & Ports Ltd. Permission to use quotations from this article is granted subject to appropriate credit given to www.shipsandports.com.ng as the source.