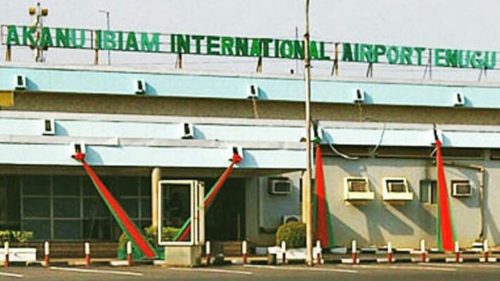 In other to encourage quick Federal Government intervention, Enugu State Governor, Ifeanyi Ugwuanyi has said the state will set up a stakeholders' committee to look into and resolve every issue concerning the expansion of the Akanu Ibiam International Airport, Enugu.
According to a statement issued by the Commissioner for Information,
Ogbuagu Anikwe, on Monday the committee will comprise officials of the Federal Ministry of Aviation, Federal Airports Authority of Nigeria and the Nigeria Export Processing Zones Authority.
Anikwe said the State Ministries of Lands & Infrastructure, Commerce & Industry, and the management of the ENPOWER Free Trade Zone will also
join the committee.
Emphasizing the importance of the International Airport to the people
of the South East geo-political zone, the government reiterated its commitment to continue to support "every effort required to be made in order to get it functioning at optimum capacity and efficiency."
It further stated that the stakeholders would have to unravel what appeared to be a disagreement among federal authorities operating in Enugu State concerning ownership of vast hectares of land which the state government has so far approved around the airport for their use.
Anikwe said, "If at the end of the meeting, it is established that any of the parties still needed more land, especially for the airport project, the Enugu State government will promptly attend to this need."
"At the moment, it is important to emphasize that Enugu State has donated vast tracts of land for the airport expansion project and is also working to relocate further identified encumbrances such as a local  market, in order to encourage the federal authorities to speedily complete the project."