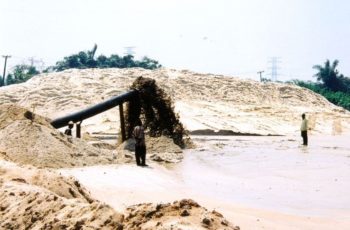 An environmentalist, John Ekoko, on Wednesday decried the ongoing sand filling of Lagoons in some parts of Lagos State by the state government, warning against its consequences.
Ekoko, a former Chairman of the Nigerian Environmental Society, Lagos Island Chapter, spoke in an interview with newsmen in Lagos.
Massive sand filling has been reported at the lagoon end of Iyana Oworo, Ogudu and Ilubirin areas of the state. 
According to Ekoko, the state government is sand filling the lagoons without due consideration for the surrounding coastal areas.
The environmentalist said that its consequences were already noticeable on the surrounding coastal areas as well as on water transportation.
Ekoko said a comprehensive Environmental Impact Assessment (EIA) should have been carried out on the areas before any dredging and sand filling work was carried out.