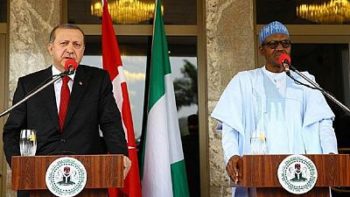 President Muhammadu Buhari and his Turkish counterpart Recep Tayyip Erdogan on Thursday agreed to ramp up security and economic cooperation between both countries.
Speaking after talks at the Turkish presidential palace, Buhari and the Turkish leader vowed to increase investment and cooperate in the fight against extremist groups including Boko Haram jihadists.
"There are a lot of potentialities in terms of investment. Already a lot is being done in the education and the health sectors," said Buhari.
"This will be strengthened and Nigeria is prepared to receive Turkish business people to come and explore more of Nigeria's potentialities," he added.
Erdogan said he believed both sides would push trade volumes above $1.245 billion.
"Turkish business people are ready to take on the development of Nigeria," he said.
At a time of tense relations with the European Union and the United States, Turkey has been moving to broaden its influence in Africa, opening new diplomatic missions and air links.
Erdogan has been a frequent visitor to the continent, most recently travelling to Tanzania, Mozambique and Madagascar in January.
He said Turkey saw no difference between Boko Haram and Islamic State (IS) and the group of the US-based preacher Fethullah Gulen blamed for the 2016 failed coup.
"These organisations are the killers who feed off the blood of the innocent," he said.
Asked how Turkey could help Nigeria defeat Boko Haram, Erdogan replied that intelligence cooperation was of the utmost importance.
Boko Haram's quest to establish a hardline Islamic state in northeast Nigeria has left at least 20,000 dead and threatened regional security.
Buhari will on Friday travel to Istanbul to attend a summit of the Developing-8 (D-8), a grouping of growing mainly-Muslim countries first envisaged by Erdogan's late political mentor and former Turkish premier Necmettin Erbakan.
It comprises Bangladesh, Egypt, Indonesia, Iran, Malaysia, Nigeria, Pakistan and Turkey.