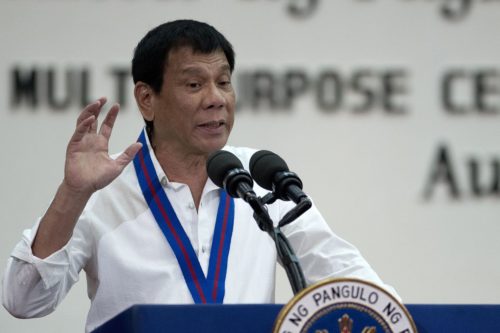 Philippines President Rodrigo Duterte, who is well known for his erratic behavior and uncouth utterances, on Thursday fired the head of the Bureau of Customs and ordered all top bureau officials replaced after the agency failed to intercept more than a ton of drugs.
This is the second of such sack in two years.
Duterte has made a bloody fight against drugs the centerpiece of his administration since he won a presidential election in 2016. Thousands of people have been killed in the crackdown ordered by him. 
Duterte said Customs Commissioner Isidro Lapena was being removed from his post and all his deputies and top officials would be transferred.
"The commissioners are out, the department heads are out," Duterte said during a speech at a ceremony commemorating the founding of the Philippines coastguard.
He said he was appointing retired army general to take over the bureau and soldiers and members of the coastguard would help him.
Duterte said Lapena would be reassigned to a government training agency.
Lapena, who was at the ceremony, expressed surprise by his transfer and commented briefly to reporters to express his thanks to Duterte for his new posting.
Lapena, a retired police general, has been under pressure since customs authorities failed to detect a shipment estimated at more than a ton of meth amphetamines being smuggled into the country in July.
Drug enforcement agents later found traces of the drugs in the containers in which they were smuggled, but the drugs were gone.
Duterte did not however refer to the case.
The previous head of the customs bureau was removed after a huge amount of drugs were smuggled into the country in May 2017. 
Copyright Ships & Ports Ltd. Permission to use quotations from this article is granted subject to appropriate credit given to www.shipsandports.com.ng as the source.