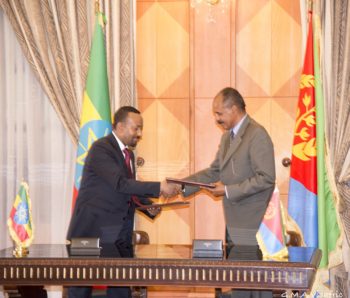 Ethiopia and Eritrea declared their "state of war" over on Monday and agreed to open embassies, develop ports and resume flights.
The announcement promised to end of one of Africa's most intractable military stand-offs, a conflict that has destabilised the region and seen both governments funnel large parts of their budgets into security and soldiers.
"The people of our region are joined in common purpose," Ethiopia's new Prime Minister, Abiy Ahmed said, according to a tweet from his chief of staff, after signing a pact on resuming ties with Eritrean President, Isaias Afwerki.
Ahmed flew to neighbouring Eritrea a day earlier and embraced Afwerki on the airport runway. Thousands of Eritreans came onto the streets to cheer them and the two men danced side by side to traditional music from both countries at a dinner that evening.
Since coming into office in April, Ahmed has announced reforms that have turned politics on its head in his nation of 100 million.
Both sides tweeted summaries of the agreement signed on Monday and repeated the reference to honouring the boundary decision.
The Ethiopian version read, "State of war has come to an end; The 2 nations will forge close political, economic, social, cultural & security cooperation; Trade, economic & diplomatic ties will resume; The boundary decision will be implemented; Both nations will work on regional peace."
Eritea's Information Minister, Yemane Gebremeskel, wrote on Twitter, "The state of war that existed between the two countries has come to an end."
He said the deal included a commitment to open embassies in Addis Ababa and Asmara and a plan to resume flights between the two capitals. He published a photo of both men sitting at a table with their flags behind them.
Ethiopia's state broadcaster said the two men had "agreed to participate in the development of ports" – potentially a huge economic boost for both countries, particularly landlocked Ethiopia which has one of Africa's fastest-growing economies.
The deal would also include a resumption of phone connections, Ethiopia's foreign ministry said.
Ethiopia's dollar-denominated bonds rose to their highest in 10-weeks on Monday.
The shake-up by Ahmed, a polyglot former soldier from the Oromo ethnic group, Ethiopia's largest, has won plaudits from Asmara to Washington and drawn comparisons to the 1980s 'perestroika' reforms of Soviet leader, Mikhail Gorbachev.
Agency Report