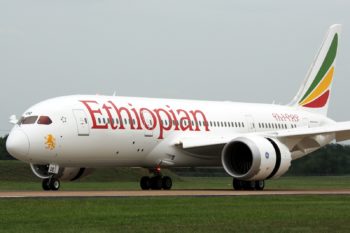 Ethiopia on Tuesday said it would open its state-run telecoms monopoly and state-owned Ethiopian Airlines to private domestic and foreign investment, a major policy shift that will loosen the state's grip on the economy.
The East African nation of 100 million people has one of the most closed and controlled economies in Africa. The ruling EPRDF coalition, in power since 1991, has long supported deep state involvement in the economy.
But the EPRDF said on Tuesday that Ethiopia needed economic reforms to sustain rapid growth and boost its exports.
"While majority stakes will be held by the state, shares in Ethio Telecom, Ethiopian Airlines, Ethiopian Power, and the Maritime Transport and Logistics Corporation will be sold to both domestic and foreign investors," it said in a statement.
It was referring to the state monopolies in the electricity, telecoms and logistics sectors, as well as the highly profitable national flag carrier.
The announcement was the first clear signal that Prime Minister, Abiy Ahmed, who came to power in April promising a "new political beginning", would implement real economic reforms.
The 41-year-old former army officer was appointed by the EPRDF after his predecessor, Hailemariam Desalegn, resigned in February after three years of unrest in which hundreds of people were killed by security forces.
Observers say Abiy is under pressure to meet high public expectations. In the past two months he has travelled around Ethiopia, promising to address grievances and to strengthen a range of political and civil rights.
Earlier on Tuesday parliament approved the government's decision to lift a six-month state of emergency two months earlier than planned.
Agency Report