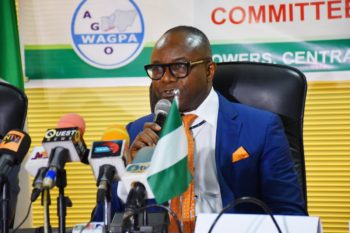 The Minister of State for Petroleum Resources, Ibe Kachikwu has said the return of peace to the Niger Delta and discovery of gas resources offshore Lagos, will boost the country's gas supply to the West Africa Gas Pipeline (WAGP) project.
He stated this on Tuesday at the 17th Meeting of the Committee of Ministers of the West Africa Gas Pipeline (WAGP) Project in Abuja.
He said, "Nigeria will continue to play her part in seeing that we work together with the aspirations of the project to achieve a greater integration of the West African region.
"The WAGP Project is being celebrated all over Africa today as the flagship project for the New Partnership for African Development (NEPAD). Therefore, this project should be sustained with our cooperation from all parties."
The Managing Director of WAGPCo, Walter Perez, while speaking at the meeting disclosed that irrespective of the fact that force majeure was yet to be lifted, WAGPCo had been able to upgrade its compressor which led to a growth in its output from 70 million British Thermal Unit (BTU) daily to 85m BTU per day in 2018.
He said, "In addition, this upgrade has allowed us to be more consistent in delivering gas to our customers despite variations in pressure at Itoki (Lagos). With the imminent completion of critical infrastructure projects in Nigeria, it is our hope and prayer that the force majeure will be lifted."
Perez announced that Ghana had paid a significant portion of its legacy debt to WAGPCo and additional payments are currently being made.
WAGP, the first regional natural gas transmission system, is a pipeline that supplies gas from Nigeria's Niger Delta area to Benin, Togo and Ghana and is operated by the West African Gas Pipeline Company (WAGPCo).