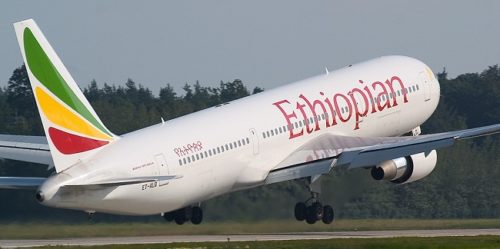 Ethiopian Airlines and the government of Chad have signed an agreement to launch Chad's new national carrier on Oct. 1, officials said.
Ethiopia's state-owned flag carrier is in talks with a number of African states to acquire stakes and manage operations – a strategy aimed at gaining a competitive advantage against rivals such as those in the Gulf.
The airline is ranked by the International Air Transport Association (IATA) as the largest carrier in Africa by revenue and profit, outpacing regional competitors Kenya Airways and South African Airways.
On Friday, the head of Chad's Civil Aviation Authority, Mahamat Adjam told Reuters the new company will be named 'Tchadia Airlines', with the government owning 51 percent and Ethiopian Airlines the rest.
"The inaugural flight is planned for October 1 but the first destination has yet to be determined," he said, adding the carrier would start off with a fleet of two Bombardier Q400 turboprop planes.
"It (the airline) will serve the four main cities in Chad and traffic to neighbouring countries," Adjam said.
The move will help Chad as it will improve its international air connections. In 2012, Chadian authorities suspended international flights operated by state carrier Toumai Air after an investigation revealed serious safety problems.
The carrier operated flights to regional destinations including neighbouring Cameroon, Gabon and Ivory Coast. It also operated seasonal routes to Saudi Arabia and Dubai.
For Ethiopian Airlines, the partnership is another step in its efforts to work with national carriers across the continent.
The company has been in talks with Djibouti, Equatorial Guinea and Guinea to set up carriers through joint ventures, and also aims to create a new airline in Mozambique that it will fully own.
Ethiopian Airlines is the frontrunner to set up and manage a new national carrier for Nigeria and has signed an agreement with the Zambian government to relaunch Zambia's flag carrier at an initial cost of $30 million.
Last month, Ethiopian Airlines announced that net profit in the 2017/18 financial year rose to $233 million from $229 million the previous year.
The airline's operating revenue rose by 43 percent to $3.7 billion in the 2017/18 financial year.
Agency Report