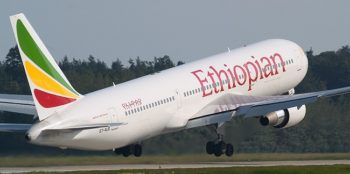 The commencement of flight operations to Kaduna Airport by Ethiopian Airlines on Tuesday has attracted condemnation from stakeholders and analysts in the Nigerian aviation industry.
Stakeholders in the sector described the additional destination granted to the airline as another form of capital flight, which they said amounts to more than N200 billion annually and cripples the activities of Nigerian carriers.
The additional destination by the East African carrier increased its penetration in Nigeria to five airports.
Other airports flown into by the airline from its base in Addis Ababa are Lagos, Abuja, Port Harcourt and Enugu.
At least 11 foreign carriers are currently operating an additional 30 flights into Nigeria weekly and are operating into different airports across the country.
Other airlines with extra flights into Nigeria are British Airways with seven, Virgin Atlantic with seven, Air France with seven, Ethiopian Airlines with 14, Kenya Airways with three, Lufthansa with seven, EgyptAir with seven, Air Cote D'Ivoire with seven, Africa World Airlines with three, Turkish Airlines with three and Asky Airlines with another three extra flights to Nnamdi Azikiwe International Airport, Abuja.
Ethiopian Airlines alone operates 21 flights weekly into Nigeria, making it the airline with highest number of flights into the West African country.
Grp. Capt. John Ojikutu (rtd), the former Commandant of the Murtala Muhammed International Airport Lagos, in an interview, decried the additional destination to the airline and other foreign carriers, especially when none of Nigeria's carriers are given the opportunity of reciprocity.
He decried that most of the foreign carriers have turned Nigeria into their domestic operations while domestic carriers are closing shop one after the other.
Ojikutu further lamented that virtually all the foreign airlines coming into Nigeria operate into at least two airports in Nigeria.
He said that while Nigeria was busy opening up its airports to various foreign airlines, their counterparts elsewhere are restricting Nigerian carriers from flying into airports of their choice.
"Now, you have five international airports which foreign carriers are flying into. They have more or less taken over your domestic markets. If you have an Ethiopian Airlines flight that is flying into five of your airports, what has it done?
"It has taken over your domestic markets. Those are the consequences and dangers in giving multiple landings to foreign airlines when you don't have reciprocity," he said.
Director of Research at Zenith Travels, Olumide Ohunayo, attributed the development to inconsistencies in Nigerian government's policies.
He bemoaned that in spite of the kick against the multiple entry policies by a majority of players in the sector, state governments are enticing foreign carriers into their states.
He expressed that with such a policy, the government was indirectly killing the domestic carriers and urged the Minister of State for Aviation, Hadi Sirika, to reverse what he described as an unfriendly policy.    
Copyright Ships & Ports Ltd. Permission to use quotations from this article is granted subject to appropriate credit given to www.shipsandports.com.ng as the source.