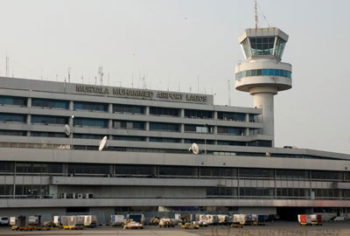 Most travellers that arrived Lagos from Abuja on Arik Air Flight were Wednesday held waiting as the Murtala Muhammed Airport terminal 1 car park was flooded due to rainfall which lasted for some hours.
Car owners that parked their cars at the car lot before travelling were forced to wait for almost an hour before the flood could disperse.
Those that had their cars removed were chauffer driven car owners who had their drivers do the dirty job of wading through the water to bring out the vehicle for them to enter even under the rain.
Some who had no driver and who could not risk it, had to accept their fate by waiting for the flood to thin down before entering the car park.
SHIPS & PORTS DAILY also discovered that some that did not have the patience to wait took car hire with the intention to come back for their car when the rain stops.
One of the airport security men who spoke in anonymity told SHIPS & PORTS DAILY that the car park is always flooded anytime there is heavy rainfall.  "It happens every time the rain is heavy. Most times you see that people are forced to wait when the rain falls and I don't think this is right.
He said those that designed the airport obviously did not figure this out. "Look at MM2 and compare. I know MM2 is new but the people that designed this one did not think of the future," he volunteered.
A staff of one of the airlines who also spoke in anonymity said the park is always flooded anytime there is rainfall. "I don't think this is right. In this modern time, rain should not stop any traveler from going home after arriving from a flight. They got it with the MM2 but even though they noticed this mistake here, the government has not bothered to do anything about it.
One of the travellers on the flight who identified himself as Daniel told SHIPS & PORTS DAILY "We have been here waiting and I needed to get to the office to do some work but look at the rain and look at the car park. I always have this feeling anytime the arrival point is MM1 because of things like this.
Some analysts have canvassed proper remodeling of MM1 airport to reflect modern realities at other airports.  Although the airport was retouched during the tenure of Stella Oduah, it obviously did not take into consideration the issue of rainfall.