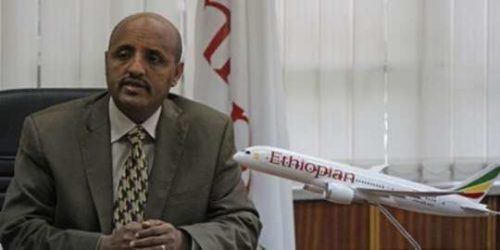 The Chief Executive Officer of Ethiopian Airlines, Tewolde GebreMariam, has decried media reports, which suggested that the captain of the crashed Ethiopian Airlines Flight ET302 did not practice on a new simulator for the Boeing 737 MAX 8 before he died in a crash with 157 others.
The captain, Yared Getachew, 29, was reportedly due for refresher training at the end of March, according to one of his colleagues at Ethiopian Airlines, two months after the airlines received one of the first such simulators.
The March 10 disaster, following another MAX 8 crash in Indonesia in October, has set off one of the biggest inquiries in aviation history, focused on the safety of a new automated system and whether crews understood it properly.
In both cases, the pilots lost control soon after takeoff and fought a losing battle to stop their jets from plunging down.
But the Ethiopian Airlines CEO on Monday hit back at reports critical of Ethiopian Airlines' safety record, stating that "contrary to some media reports, our pilots who fly the new model were trained on all appropriate simulators".
Tewolde has earlier announced on Saturday told local Fana Broadcasting Corporation that the airline would sue the New York Times and the Washington Post for "publishing baseless defamatory stories".
In his statement on Monday, Tewolde called for the grounding of the 737 MAX 8 but said "despite the tragedy, Boeing and Ethiopian Airlines will continue to be linked well into the future".
"Let me be clear: Ethiopian Airlines believes in Boeing. They have been a partner of ours for many years. We will work with investigators in Ethiopia, in the US and elsewhere to figure out what went wrong," he added.
Flight ET 302 crashed on March 10 just minutes into its flight from Addis Ababa to Nairobi.