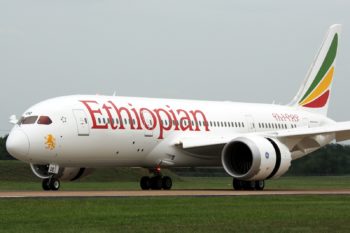 The Chief Executive Officer of Africa's largest airline by revenue, Ethiopian Airlines, Tewolde GebreMariam, says the East African carrier has not submitted any bid for the takeover of Arik Air.
"We haven't had any discussions and we have not submitted a bid," GebreMariam said, adding that there were talks last year before Arik came under the control of the Asset Management Corporation of Nigeria (AMCON). 
The Ethiopian Airlines CEO said he was unaware of interest in Arik by any other bidders.
While Ethiopian Air was pursuing alliances on several fronts, Tewolde insisted that there was no truth in reports that his company was seeking to buy Arik Air, the largest airline in Nigeria, Bloomberg reported.
Specifically, he said Ethiopian Airlines was in talks with founding regional divisions in Zambia and Chad and was aiming to buy part of the Democratic Republic of Congo's national operator in a push to consolidate its lead as Africa's biggest carrier.
An outline for a joint-venture airline in Zambia should be signed with the government and private-equity investors in a few weeks, leading to a final agreement by November, he added.
According to him, the moves will give Ethiopian Airlines a new hub in Lusaka serving southern Africa alongside Malawian Airlines, in which it has a stake.
Parallel discussions are underway in Chad for the establishment of a new national carrier in that country.
Ethiopian also wants to take equity in state-owned Congo Airways, with which it already has a strategic partnership including technical assistance, according to the CEO.
He spoke in Addis Ababa, where his company has built up a major hub targeting inter-continental transfer traffic.
Nigeria has separately appointed advisers including Deutsche Lufthansa AG's consulting arm to evaluate the business case for setting up a new national airline.
That plan may provide opportunities for Ethiopian Air in the future, though there have been no talks, according to Tewolde.
The carrier already has a foothold in West Africa through ASKY Airlines of Togo.
Plans for an airline in South Sudan were on hold given the "very difficult" situation in a country in the fourth year of a civil war, the CEO said.
Tewolde said Ethiopian Airlines was continuing to evaluate single-aisle jetliner models while closing in on an order for between 10 and 20 aircraft with 100-plus seats before the end of this year.