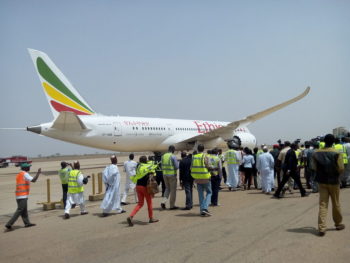 The Ethiopian Airlines says it has transported over 960 passengers through Kaduna International Airport in the first six days of closure of Nnamdi Azikiwe International Airport Abuja.
Sale and Traffic Manager of the airline in Abuja, Frehiwot Mekonnen, disclosed this on Tuesday in Abuja.
Mekonnen said the airline transported an average of 160 passengers daily between March 9 and 13.
She said that there had been daily improvement in the number of passengers since the commencement of the operation, adding that the company expects an upsurge in the second week.
"So far, we have transported an average of 80 passengers each way daily since the commencement of Kaduna operation making it about 160 passengers on the average per day.
"We are expecting that it will grow in the second week.
"Since the beginning of the diverted traffic to Kaduna the Ethiopian airlines has been flying everyday with boeing 787 dream liner and we operate one flight per day from the airport.
"So far, the load is not that much but the operation is stabilizing now and we are expecting that things will get better in the next two weeks.
"So far, the airport operation has been fantastic; the response of passengers was not too good in the first two days but now they are happy with everything and the number of passengers is improving daily."
Mekonnen commended the Federal Government for the arrangement it had put in place to transport passengers by road from Abuja to Kaduna to ease movement.
She said the arrangement was a confidence booster for the passengers.
"Like I said, the services at Kaduna airport has been fantastic because we have a dedicated counter where we screen our passengers and there is also a contact point at the domestic terminal.
"As a sole international airline operating at the airport, we have a dedicated counter, we have a dedicated lounge for our passengers and everything has been good so far,'' she added.
Ibrahim Gyade, a London-bound Ethiopian airlines passenger, who works at the Central Bank of Nigeria (CBN), commended the airline for cooperating with Nigeria to operate at Kaduna.
Gyade predicted that other foreign airlines that refused to operate in Kaduna would end up regretting their action.
He accused the foreign airlines of being disrespectful to Nigeria and its citizens even though they collected so much money from them.
"We should raise our hands for Ethiopian airlines for promoting African heritage and most importantly for rising to the occasion when others have treated us with disrespect and disdain.
"What is there in Kaduna that they don't want to fly, but I can assure you that they would regret it later because, they are making mistakes.
"This time around, I will be traveling to London, from London back to Addis Ababa and from there to China on Ethiopian airlines all because I have learnt to trust the airline.
"The airline is fantastic, in fact, their aircraft have a record of safety and the services of their hostess is wonderful especially in Addis Ababa.
"I usually travel with British Airways but since I started traveling through ET, I feel proud as an African because they have respect for Africans not because I am an African but because it is the truth,'' he said.
Gyade also commended the government for being proactive in its decision to develop the nations' aviation industry.
Abuja airport was shut down on the midnight of March 8 for the repair of its failed runway and its traffic diverted to Kaduna.
Kaduna airport started receiving traffic on Wednesday, March 8 with Ethiopian Boeing 787 Dreamliner the first to land at 11:30 am.
So far, a total of 1,890 air passengers had been conveyed by road from Abuja to Kaduna and vice versa in the first four days of closure of Abuja runway.
Under the arrangement made by the Federal Government, 1,432 passengers were conveyed from Kaduna Airport to Abuja, while 458 passengers were transported from Abuja to Kaduna Airport.