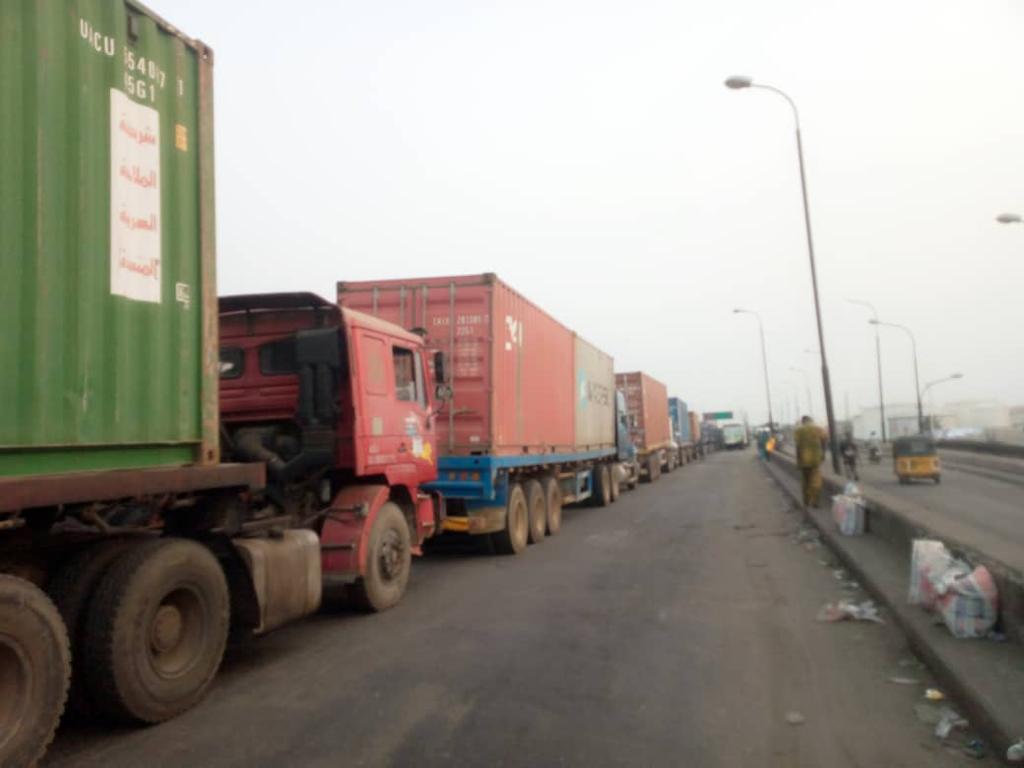 Truck drivers working at the Lagos Port Complex Apapa and the Tin Can Island Port Complex have again expressed dissatisfaction with the shoddy implementation of the so-called electronic call up system by the Nigerian Ports Authority (NPA).
The collapse of the system, which is being implemented through an app called "eto", was glaring yesterday with extended lines of trucks blocking the roads all the way from Wharf Road, Apapa to Eko Bridge; and from Tin Can port gate all the way to Mile 2 on the Oshodi-Apapa expressway.
"Wetin be eto? Eto no work anything. Sebi you can see everything yourself. They just used it to collect our money. All the police and LASTMA people they are everywhere only collecting money.
"Only people that pay them can pass into the port. Everything has failed," Jamiu Adetunji, a flatbed driver who spoke with SHIPS & PORTS at Costain roundabout on Wednesday lamented.
Adetunji said he had never used the eto app since it was launched in February to access the port.
"To enter port no be eto, na money. You pay police and LASTMA you enter port. Them just dey deceive us," he said.
Recall that NPA rolled out the electronic call up system on February 27 with promises by the Managing Director of the authority, Hadiza Bala Usman, that the new system was the much-needed elixir for the Apapa gridlock.
NPA launched the eto app, which truckers were expected to use to book turns to enter the port. NPA also designated some truck parks for the port-bound trucks. The trucks were expected to wait at the truck parks until it is their turn to enter the port.
However, both the online booking system and truck park arrangement have fallen like a pack of cards as the trucks – tankers, container trucks, break bulk cargo trucks and factory trucks – have returned fully to the roads.
SHIPS & PORTS first reported the collapse of the electronic call up system in March. The situation has since worsened, making movement in and out of Apapa and Tin Can a harrowing experience.
A tanker driver, who also spoke with SHIPS & PORTS on Wednesday, expressed disappointment over the inability of NPA and the Lagos State Government to address the gridlock.
"I have been driving to Apapa for more than three years. Every time they promise to solve this problem but they don't do anything. It is drivers like us that suffer at the end," he lamented.
The Association of Maritime Truck Owners (AMATO), in a statement this week, said the implementation of the electronic call up system by NPA as well as the activities of officials of the Lagos State Special Traffic and Enforcement Team were fraught with "irregularities and corruption".