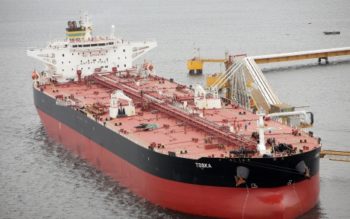 The Nigerian Ports Authority (NPA) has suspended service boat operations in all its pilotage districts.
General manager, NPA corporate and strategic communications, Abdullahi Goje, who announced this in a statement, said the situation would remain so until the full settlement of debts accruing from unpaid pilotage dues by international oil companies (IOCs) and other beneficiaries of the service.
The NPA said it might prevent Total's Engina FPSO vessel due to arrive in January from accessing the Nigerian waterways.
The authority said the affected companies, whose indebtedness run into tens of millions of dollars outstanding for over two years, ignored the warning letters written them over a couple of months.
It added that it had no choice but to issue the suspension, which has been communicated to the affected parties.
"Concerning the suspension of service boat operations, the Authority, had written to companies owing pilotage dues, invoking provisions of "Appendix F" of the operating agreement on 'Delay Payment' to the effect that a debtor company must make payment by telegraphic transfer within," the statement read.
"Failure to pay the agreed sum will attract interest at a rate equal to LIBOR plus five percent (5%) on the unpaid amount until the date of actual payment.
"The advice was ignored by all the companies concerned."
On the Engina FPSO, whose main component is currently sailing from South Korea to be coupled with its top side being fabricated at LADOL Free Trade Zone, Tarkwa Bay, the NPA explained that "the refusal of the parties involved in the project to request for towage and pilotage service from the NPA, (being the only organisation empowered to provide same in the country), is contrary to the laws of the country and would be resisted."
The NPA said notice had already been given to promoters of the FPSO to the effect that the vessel would not be granted access to Nigeria's waterways.
It added that it would pursue legal remedies in its determination to ensure that no organisation impedes on the mandate of the NPA as provided in part II of the port act.
Copyright Ships & Ports Ltd. Permission to use quotations from this article is granted subject to appropriate credit given to www.shipsandports.com.ng as the source.