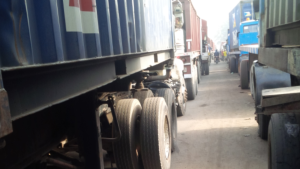 The National Sesame Seed Association of Nigeria (NSSAN) has lamented the high cost of transportation of goods in the country.
The National President of the association, Alhaji Sheriff Balogun, made this known in an interview with newsmen in Kaduna on Friday.
Balogun disclosed that it costs more to move goods within the country than shipping goods from the U.S.
He said "It costs between N800,000 to N1 million to transport a trailer of 30 tonnes of goods from Taraba State to Lagos.
"But you will transport a 20ft container of goods from New York to Nigeria at just $2,000 or about N600,000 at the official exchange rate and about N700,000 at black market rate.''
According to Balogun, transporters justified their high charges on dilapidated Nigerian roads, which damaged their trucks and tyres and deplete their profit margin.
He also complained about multiple taxes, whereby transporters would be forced to pay all kinds taxes before reaching their destination.
"For instance, we pay for about 49 receipts moving goods from Taraba State to Kano and more, if you are moving the goods to Lagos.
"The worst is Benue State where we collect over 20 receipts.
"How can one make profit under such harsh environment?,'' he asked.
Balogun therefore called on the Federal Government to do something about the transport infrastructure to bring down the cost of transportation.
"The issue of multiple taxes also needs to be tackled.
"This is because high cost of transporting goods within the country, accompanied by multiple taxes lead to high prices of goods in the market.
"It is a challenge because everything about business is about cost and profit.
"If the cost is high, it means profit will be reduced. One will be forced to increase prices to remain in business,'' he said.