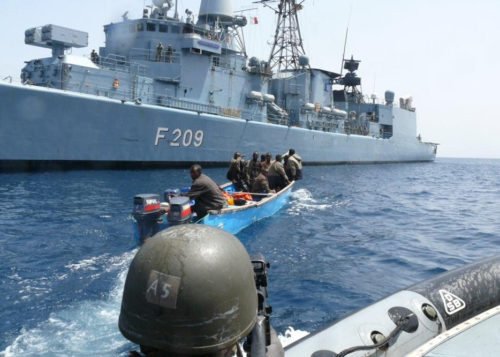 Somalia Operation Atalanta otherwise known as European Union Naval Force (EU NAVFOR) has arrested five suspected Somali pirates following series of incidents that transpired over the course of the past few days. 
EU NAVFOR is a current counter-piracy military operation at sea off the Horn of Africa and in the Western Indian Ocean. 
Launched in December 2008 with a focus on protecting Somalia-bound vessels and shipments belonging to the World Food Programme (WFP) and the African Union Mission in Somalia (AMISOM) as well as select other vulnerable shipments, EU NAVFOR is the first naval operation conducted by the EU.
According to naval force, the incident began April 19 when five suspected pirates captured a Yemeni dhow off the coast of Somalia, before proceeding to navigate the dhow to a pirate basecamp where they reinforced their crew with additional members.
Two days later, on April 23, the pirates used the dhow as a mothership to launch an attack on a Korean fishing vessel in the Indian Ocean some 280 nautical miles off the coast of Somalia. The fishing vessel, named Adria, performed evasive maneuvers and increased its speed to avoid capture. 
Meanwhile, a second fishing vessel, the Spanish-registered Txori Argi, was operating in the vicinity and proceeded to assist the Adria as it continued to be chased by the pirate skiffs.
EU NAVFOR reported that after approximately one hour, both vessels were approached by the skiffs and fired upon with what was believed to be a rocket-propelled grenade. 
The Private Armed Security Teams (PAST) on board the FV Adria and the FV Txori Argi responded, causing the skiffs retreated.
Later that same day, another Fishing Vessel, FV Shin Shuen Far 889, also reported having been approached by two skiffs, which both retreated when the security team on board also revealed weapons.
On 21 April, EU NAVFOR dispatched its Maritime Patrol Aircrafts (MPRAs) and conducted a search in the area, resulting in identifying the mothership. Two days later, on April 23, EU NAVFOR's flagship ESPS NAVARRA successfully intercepted and boarded the captured dhow vessel, apprehended five suspected pirates, and released the 23 hostages aboard.
EU NAVFOR says the incident marks the first notable piracy event since October 2018.
"This incident clearly demonstrates that piracy and armed robbery at sea, off the coast of Somalia, has not been eradicated," said Operation Commander Rear Admiral Antonio Martorell. "The need for a strong maritime security presence in the High-Risk Area remains critical for the deterrence and prevention of future incidents and attacks."