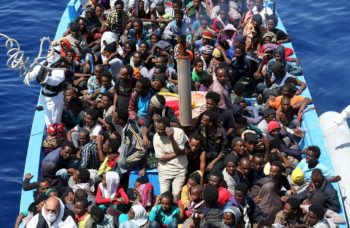 The European Union (EU) Deputy Head of Delegation, Richard Young, has said the bloc will partner with Nigeria to evolve solutions to illegal migration.
He made the disclosure in his address at the "Abuja Policy Debate" in Abuja.
The policy debate is a discussion forum on EU, Germany and Nigeria's collaboration on migration.
Young noted that there is need to contribute to the political discourse on topical issues in Nigeria by providing a platform for stakeholders and policymakers to discuss and recommend the way forward.
He said, "Nigeria, as a sovereign nation is one of the most important to EU in Africa, in terms area of diplomatic relations on the fight against illegal migration.
"Closing of the border is not a final solution and force is not, but whatever approach might have been employed the host country needs to cooperate with us.
"What we want to find out through partnership is Nigeria's strategic plan to address illegal migration and cooperation between the two countries.
"We want to examine the respective level of a partnership if any at all that must have existed between us because Nigeria is a place of importance."
The Deputy Chief of Mission of International Organisation for Migration (IOM), Frantz Celestin, in his speech said that there was the need for awareness creation to curb illegal migration.
He described illegal migration to be a multidimensional issue that required a holistic approach, to be able to proffer solution to the problem.