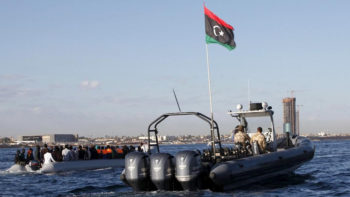 EU interior ministers on Thursday discussed ways of ensuring that private rescue boats working off Libya liaise more closely with coastal authorities, amid concerns that their activity is encouraging migrants to attempt the sea crossing to Europe.
Escaping wars and poverty, more than 360,000 refugees and migrants arrived on European shores across the Mediterranean last year. More than 85,000 have reached Italy so far this year.
The European Commission and EU ministers fear that non-governmental organisations (NGOs) running rescue services off the Libyan coast are providing a "pull factor", encouraging migrants to risk their lives in flimsy dinghies in the hope of being picked up and then ferried over to Italy.
"In Tallinn, the ministers of interior acknowledged that the situation in the central Mediterranean and the resulting pressure on Italy is of great concern to all member states," Estonia, holder of the European Union's rotating presidency, said in a statement.
The ministers agreed to beef up the Libyan coastal rescue services, step up deportations of failed asylum-seekers and fund African countries from which people are fleeing poverty hoping to find work in Europe.
Italian Interior Minister Marco Minniti told reporters that NGOs were conducting about 34 percent of the rescue operations and so needed to work closely with the Libyan coastal authorities in their waters.
"These are civil operations and therefore need to be coordinated (with the coastguard) just as much as they need to liaise with the judicial authorities and the police regarding actions and investigations against (people) smugglers," he said.
On Tuesday the European Commission offered Italy more funding to deal with Mediterranean migrants and said Italy would draw up a code of conduct for NGOs running rescue operations.
Italy has increasingly borne the brunt of migrant arrivals after the EU clinched a deal with Turkey last year that sharply cut the number of people arriving via Greece.
Minniti said Italy would work quickly on the code of conduct, a draft of which was circulated before Tallinn meeting.
Oxfam expressed concern that the EU's plans would "only increase the suffering of people on the move".
"European governments should be supporting search and rescue operations in the Mediterranean, and generally treating migrants in a more fair, transparent and legal manner," it said in a statement.
At a separate conference in Rome on Thursday, Italy's Foreign Minister Angelino Alfano stressed the importance of strengthening Libya's southern borders to discourage migrants from sub-Saharan Africa.
"We have to stop the migrants getting to Libya and to do that we have to help the countries further south," he said, comparing people traffickers who ferry the migrants towards Italy as "the biggest travel agency in the world".    
Copyright Ships & Ports Ltd. Permission to use quotations from this article is granted subject to appropriate credit given to www.shipsandports.com.ng as the source.