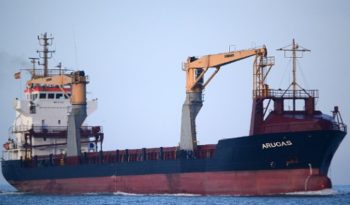 Seven more foreign flagged vessels were detained in UK ports during June 2016 after failing Port State Control (PSC) inspection, according to data provided by Maritime and Coastguard Agency (MCA). 
The new detentions included the Panama-flagged Reggae, Seccadi and Tahsin, Marshall Islands-flagged Toba, Malta-flagged Arucas, Antigua & Barbuda-flagged BBC Vela and Kaster.
An inspection aboard the 1,567 gross ton Reggae unveiled nineteen deficiencies with four grounds for detention. The ship was subsequently arrested on June 27 at Leith. The 44,200 Toba was detained on June 19 at Liverpool after an inspection aboard the ship found sixteen deficiencies with three grounds for detention. The duo was still detained at the end of the month.
Inspectors found twenty seven deficiencies with four grounds for detention aboard the 3,660 gross ton Arucas and the vessel was arrested on June 15 at Newhaven. This vessel was released from detention on June 28, 2017.
BBC Vela, which had fifteen deficiencies with four grounds for detention, was taken into custody on June 19 at Aberdeen and released two days later on June 21. With eleven deficiencies with six grounds for detention, the 1,596 gross ton Seccadi was detained on June 20 at Runcorn. It was still detained on June 30, 2017.
The 2,452 gross ton Kaster was arrested on June 7 at Sharpness with five deficiencies with two grounds for detention, and released on June 10, 2017.
Finally, the 1,598 Tahsin, which had twelve deficiencies with eight grounds for detention, was placed in custody June 2 at Sharpness. It was still detained on June 30, 2017.
During the month there was a total of eleven foreign flagged ships under detention in UK. Apart from the newly detained vessels, four ships remained under detention from previous months. These include Ana M, which was detained on May 30, Malaviya Seven, arrested in October 2016, Sea Trident, taken into custody in March 2010, and Cien Porciento, which is in detention since March 2010.
MCA informed that a total of seven vessels remain under detention at the end of June.    
Copyright Ships & Ports Ltd. Permission to use quotations from this article is granted subject to appropriate credit given to www.shipsandports.com.ng as the source.