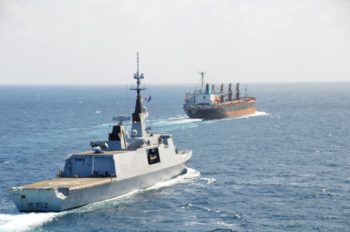 The European Union is marking eight years of counter-piracy naval operations off the coast of Somalia protecting World Food Programme vessels and international shipping from acts of piracy.
EU NAVFOR Somalia – Operation Atalanta was launched in 2008 in the response to the surge in armed pirate attacks on commercial ships and other vessels in the Gulf of Aden and off the Somali coast. After spreading further out into the Indian Ocean, Somali piracy reached its peak in 2011 with 176 total attacks on ships. One of the primary missions Operation Atalanta has been to protect World Food Programme (WFP) vessels delivering much-needed humanitarian aid to displaced people in Somalia.
Since its launch, Operation Atalanta has reported a 100% success rate with the 408 WFP vessels that have sailed under EU NAVFOR's protection. EU NAVFOR has also reported success in preventing and disrupting a significant number of pirate attacks in the Gulf of Aden and Indian Ocean, resulting the transfer of 154 men suspected of committing acts of piracy to the EU or regional states for prosecution.
EU NAVFOR credits its success over the years to the close cooperation and coordination between the different counter-piracy task forces, independent navies and the maritime industry.
"By working together and implementing protection measures, pirate attacks have significantly reduced. It is sobering to think that between 2005 – 2012 a total of 385 million US dollars was paid out in ransoms, and at the height of Somali-based piracy in January 2011, over 700 hostages and 32 vessels were being held in pirate anchorages. As of today, none of these ships and their hostages are being held," EU NAVFOR said.
While the number of piracy incidents has fallen to nearly zero in recent years, Member States of the European Union still recognize that the conditions that enabled piracy to flourish in the first place are still present, so experts and officials alike continue to warn that there is no room for complacency. For this reason, the European Council in November extended Operation Atalanta's counter-piracy mandate, that was due to expire this year, until December 31, 2018.
Copyright Ships & Ports Ltd. Permission to use quotations from this article is granted subject to appropriate credit given to www.shipsandports.com.ng as the source.