APM Terminals together with AIP Foundation, a road safety nonprofit, is rolling out a new training program in Vietnam to help make the port community of Cai Mep in southern Vietnam safe. More than 45 truck drivers and other CMIT employees, along with executives from the APM Terminals' operated Cai Mep International Terminal (CMIT), joined 500 students, teachers, and parents at Tran Quoc Toan Primary School, which neighbors the port, to address road safety issues in their community. The truck drivers work for CMIT, a subsidiary of the Netherlands-based port operator APM Terminals. The event is the inaugural activity for Lifting Safety, a proactive road safety program developed by AIP Foundation and APM Terminals. It will provide nearly 1,000 helmets and road safety education classes to children at Tran Quoc Toan and Toc Tien primary schools.
A study commissioned by APM Terminals and conducted by AIP Foundation in October 2016 found that even though most students in the region commuted to school by motorcycle, only 35% of students at Tran Quoc Toan Primary School and 19% of students at Toc Tien Primary School wore helmets, despite road dangers such as mixed vehicle use roads and lack of separate motorcycle lanes.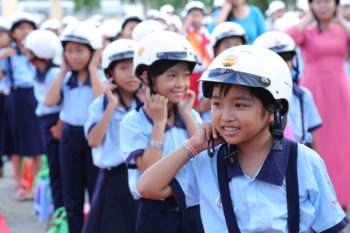 The Lifting Safety program aims to identify and mitigate road safety risks in the community near the APM Terminals-operated port through a combination of targeted education, awareness, and community engagement programs. Both the national- and provincial-level traffic safety committees have worked closely with APM Terminals and AIP Foundation in developing and implementing the program.
"We wanted to use our expertise and connect with the people of the community to share our safety learnings and make their lives safer. Our research data revealed just how hazardous the local roads in the community are. Partnering with AIP Foundation and local government authorities enabled us to reach a broader audience," stated Kevin Furniss, Vice President of APM Terminals Health, Safety and Environment. "We are enthusiastic about the prospect of implementing this evidence-based program to other port locations to help us build meaningful safety relationships with the communities we operate in. AIP Foundation is clearly a specialist in road safety in Asia and our longstanding partnership dates back to 2008."
"We appreciate APM Terminals' being the catalyst for the Lifting Safety program to care for our people and are encouraged by the actions and behavior changes this program will prompt," Mr.Vu Quy Phi, Deputy Director of the Traffic Police Department and Deputy Chief Secretariat of National Traffic Safety Committee, said.  "Proactive participation from the local government and authorities in Tan Thanh District is the prerequisite for the initiative's success. We also hope to expand this model beyond this partnership by replicating it at other ports in the Ba Ria-Vung Tau Province."
"We are already impressed by APM Terminals' commitment to safety and in-depth industry expertise," Mirjam Sidik, CEO of AIP Foundation, said. "As Lifting Safety progresses, we hope to continue to bring communities together by fostering dialogues between public- and private-sector stakeholders."
"Acting as a road safety ambassador gives me the opportunity to share my experiences with some of the youngest and most vulnerable road users in the communities I work in," Le Quang Thien, a truck driver, said. "I also hope this will help me better understand how the students and teachers at these schools feel on the roads."
Over the next year, Lifting Safety will implement truck driver trainings, a mass media awareness campaign, and community-based activities in and around the CMIT port in Vietnam.
Copyright Ships & Ports Ltd. Permission to use quotations from this article is granted subject to appropriate credit given to www.shipsandports.com.ng as the source.