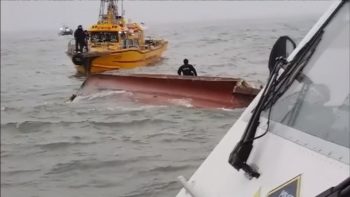 A Vietnamese official disclosed on Monday that six Vietnamese fishermen were rescued after their boat was allegedly sunk by two Chinese vessels in the disputed South China Sea.
The incident occurred on Friday near Lincoln Island in the Paracel Archipelago, according to Chairman of the Vietnam Fisheries Society (VFS), Nguyen Viet Thang.
Thang said the two Chinese boats chased and rammed the Vietnamese boat before armed assailants boarded the vessel and seized the equipment and catches of the fishermen.
"We condemn such barbarous action and ask the Chinese government to punish such behaviour,'' Thang said.
Vietnam's government and state media have previously accused Chinese vessels of attacking Vietnamese fishing boats.
According to Vietnam's Tuoi Tre newspaper, since March, over 10 Vietnamese fishing boats have allegedly been hit and robbed while fishing in the South China Sea.
China claims almost all of the South China Sea, including waters internationally recognised as Vietnam's exclusive economic zone, where Vietnam has sole fishing rights.
Agency Report