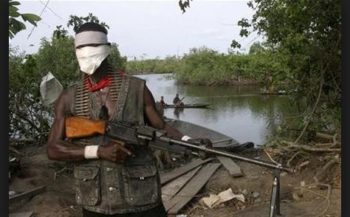 An ex-Niger Delta militant leader, Paul Eris, popularly known as 'General Ogunboss', has transformed from a creek warlord to a rice farmer.
The ex-militant leader is the owner of Tanko Rice Farm at Peremabiri community in Southern Ijaw Local Government Area of Bayelsa State.
In an interview on Thursday, Eris said the farm began on February 6, 2017 with 51.5 hectares of the swampy and thick forested area cleared so far.
Eris said he hoped to add 200 hectares more by next year.
He also said the initiative was to boost commercial rice production, provide jobs for the youths in the area as well as to reduce crimes.
He stated that with 300 bags of paddies received from the Federal Ministry of Agriculture and Rural Development, his goal is to make rice farming a thriving enterprise in the state and beyond "as well as provide jobs for the youths in the area and reduce crime."
Eris, however, lamented that there had been threats of attacks on the farm owing to the crisis in Peremabiri during the 2015 governorship election in the state which left many houses destroyed and thousands of persons displaced.
Blaming political class for being the brain behind the alleged planned attacks, he sued for peace to enable the people to reap the benefits of the rice farm in the area.
It was learnt that the Tanko Farms operated by Eris has already acquired a rice milling facility which is already benefitting some rice farmers.
Some human rights activists such as Mr. Alagoa Morris of the Environmental Right Action and Mr. David West of the Civil Liberties Organisation, who visited the rice farms lauded the initiative of Eris.
They stressed that the initiative would go a long way in boosting food production in the state and stimulate economic activities in the area.
They, however, called on the state government to support the farmers and construct a road from Yenagoa to Peremabiri to maximise the accruable benefits of the rice farm in the state.