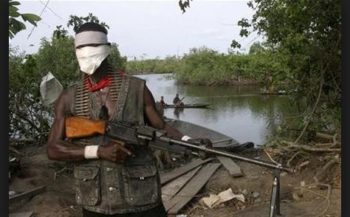 The Presidential Amnesty Office has said that the suspected pipelines vandal, called General Eagle, who was arrested by security agencies, is not one of the ex-militants registered under the Presidential Amnesty Programme.
The Media and Communications Consultant of the Amnesty Office, Owei Lakemfa, said in a statement on Monday the suspect – being held for suspected vandalism, illegal bunkering and kidnapping – should not be associated with the Amnesty Office and militancy in the Niger Delta.
Lakemfa said that it was not uncommon for such people to claim to be an ex-agitator out of desperation to escape justice for alleged offenses.
He stressed that being captured under the Amnesty Programme as an ex-agitator was not a license for anybody to commit any crime.
"The Presidential Amnesty Office wishes to state that one Justice Golubo alias 'General Eagle' (who is) suspected to be the leader of a gang responsible for vandalism of oil facilities, illegal bunkering and kidnapping is not an ex-militant.
"He should therefore, not be associated with the Amnesty Office nor militancy in the Niger Delta. No such person exists in the data base of the Presidential Amnesty Office neither is he part of the Amnesty Programme.
"It is not uncommon for suspects to claim to be part of the Amnesty Programme, hoping this way to escape justice or mitigate whatever punishment may be due to them. The Amnesty Office believes that every crime should attract commensurate punishment irrespective of claims by suspects."
Lakemfa also quoted the Special Adviser to the President on Niger Delta and the Coordinator of the PAP, Brig. Gen. Paul Boroh, as having commended the 30,000 beneficiaries of the programme for refusing the participate in the violence that rocked the December 10, 2016 rerun election in Rivers State.
Boroh warned any delegate of the programmers who got involved in violence would be removed from the programme and made to lose his or her benefits.
He was also said to have commended the Amnesty beneficiaries for their maturity in reacting to the delay in the payment of their stipends and in-training allowances.
He promised that the outstanding allowances would be paid soon.
Copyright Ships & Ports Ltd. Permission to use quotations from this article is granted subject to appropriate credit given to www.shipsandports.com.ng as the source.