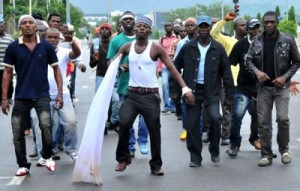 Many ex-militants, said to be foot soldiers of former militant leaders, on Wednesday, threw caution to the wind, attacking a branch of Skye Bank in Amarata area of Yenagoa, Bayelsa State, over alleged deductions from their monthly stipends.
It was learnt that the ex-militants went berserk at the banking hall after discovering that deductions had been made from their N65,000 monthly allowances by the bank on the orders of the former commanders of their dissolved camps.
The former militants reportedly became violent inside the banking hall, turned tables, chairs and other equipment upside down and forced other bank customers to run for their lives.
They were alleged to have told some bank tellers to pay their complete money if they did not want to go the way of one of their colleagues, Adewale Adesanya.
Adesanya, an official of the bank popularly called Wale, was allegedly attacked and killed by gunmen eight months ago, on his way to Port Harcourt, Rivers State.
It was gathered that one of the unnamed ex-militants, with scars all over his body, reportedly stripped himself naked, threatening to defecate in the banking hall if the matter was not addressed by the bank's management.
It was further learnt that about N40,000 each was deducted from the accounts of the ex-militants, leaving them with N25,000 balance.
A customer, who claimed to have ran out of the banking hall during the incident, said the sight of the ex-militants was scary, noting that they were violent and rude.
A bank official, who did not want to be mentioned, said efforts to calm the ex-militants down were unsuccessful as they kept shouting and making attempts to destroy the bank's property.
The bank official said the branch management was compelled to call for a detachment of the Special Anti-Robbery Squad to beef up security.
"They threatened and their sight was really scary. Some had deep scars, healed bullets wounds. One of them was one-handed," the female bank official stated.
She, however, explained that the ex-militants had an agreement with their 'generals' that N20,000 each should be deducted from their N65,000 every month leaving them with a balance of N45,000.
"But what happened is that last month, the stipend was not paid on time and the ex-militants took all their N65,000, without honouring the agreement.
"So, when this new stipend was paid, the 'generals' insisted that two months deductions must be made on their accounts. It is a standing order which was carried out but the ex-militants don't want to understand that.
"This is not the fault of the bank. They agreed to the deductions and even signed undertakings. But now they make it look as if the bank and its officials are the ones eating their money. They should go and meet their commanders to sort out things".
Copyright Ships & Ports Ltd. Permission to use quotations from this article is granted subject to appropriate credit given to www.shipsandports.com.ng as the source.