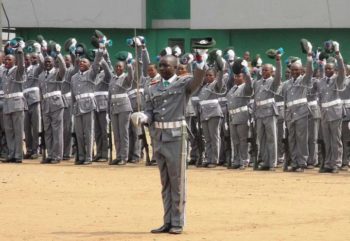 The directive by the Comptroller-General of the Nigeria Customs Service, Col. Hameed Ali (rtd) to all Customs officers to declare their assets in January 2016 has proven to be a huge failure as only 1,191 officers have complied out of a total staff strength of about 17,500 leaving a whopping 16,309 as the number of officers who have not declared their assets.
One year after Ali issued the order, the Code of Conduct Bureau (CCB) exclusively informed SHIPS & PORTS DAIILY that out of 17,500; only 1,598 Customs officers were administered the Assets Declaration Forms by the CCB between January and February 2016, out of which only 1,191 officers completed and returned their forms, indicating that 387 Customs officers, among those administered declined to declare their assets and are still in the service.
Despite the fact that the Nigeria Customs Service boasts of about 17,500 officers, the CCB said it received a nominal roll of only 1,598 officers from the Customs headquarters. It is not clear why the Customs management sent in only 1,598 officers to the CCB for assets declaration.
In a new measure to push transparency, compliance with the rule of law and check the rampant corruption in the service, Col Ali had on January 15, 2016 directed all officers and men of NCS to make full disclosure of their assets.
A circular signed by the Comptroller General and addressed to all deputy comptrollers general, zonal coordinators and customs area controllers gave all officers 14 days to comply with the directive seen by many as aimed at ensuring transparency in the Service.
According to the circular, which noted that the 14-day ultimatum would be strictly enforced, the directive was in compliance with "the Bank Employees Declaration of Assets Act Cap B1 Laws of the Federation of Nigeria, 2004," which provides for asset declaration by all bank employees and empowers the President to extend its application to other categories of persons.
But one year later under the current Customs administration, 16,309 Customs are yet to declare their assets and are still in the Customs Service headed by Col Ali.
According to the CCB's records, Nigeria Customs Service sent a nominal roll of 1,598 officers to the Bureau and equal number of Assets Declaration Forms (ADFs) were sent for the officers to fill. Out of this number, 1,191 Completed Assets Declaration Forms (CADFs) were returned.
"This means that only 1,191 Customs officers declared their assets, while 387 officers did not return their forms. By this, it means that 387 Customs officers have not declared their assets," CCB said in a letter to SHIPS & PORTS DAILY, which sought the information through the Freedom of Information Act, 2011.
The CCB letter to SHIPS & PORTS DAILY with reference number CCB/HQ/671/G/1/11 dated December 20, 2016 was signed by Mrs Ijeanuli Arinze Ofor on behalf of the Bureau's Chairman.
While the Bureau also confirmed that the Customs top officials, including the CG had declared their assets, it however declined request by SHIPS & PORTS DAILY for copies of completed assets declaration forms of the top officials, insisting that such a request constitutes invasion of personal privacy based sections 12(1) (a) (v), 14(1) (b) and 15(1) (a) of the FOIA, 2011.
Copyright 2016 Ships & Ports Ltd. Permission to use quotations from this article is granted subject to appropriate credit given to www.shipsandports.com.ng as the source.