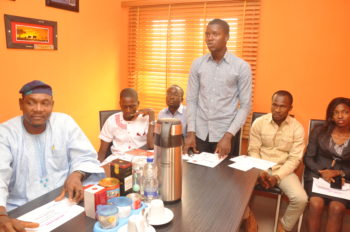 I was browsing when I came across the competition on Ships & Ports website, and it indicates it closes last week Friday and I got to know about it last week Wednesday which is few days to the close of entry. I decided to write and I am glad I did because this is the first time I will be among the winners of the annual essay competition like this.
Bakare Oladejo
I am so grateful to God for this opportunity to be here today and for winning this prize and to be among the winners of this competition. I got to know about this competition on Twitter because I follow Ships & Ports and apart from getting to know about it on Twitter, I do read Ships & Ports news because they post interesting news a lot about politics, shipping industry  and on different aspects. Whenever I see any of their tweets, I like going through it. When I saw the tweet about the Essay Competition, I did not want to write because it was too late to fill the entry form online but I decided to give it a try even though I thought it won't get to Lagos because I didn't plan on sending it due to distance of my residence because I stay in Calabar.
I had challenges writing the essay and I used four days in putting it together, I am really surprise I am among the winners because I didn't believe I was going to win. I appreciate Ships & Ports for the opportunity to write something about the challenges faced in Nigeria, I believe our leaders are quiet aware of what to do but I feel they are being foolish and I mean in the sense that they think about having all for their family and allow the masses die but they forget their family also live in the same society as the masses. There is something about wealth that I have discovered which is wealth does not move from generation to generation i.e you may be a rich politician today and your next generation may be poor but the institution you have created will be there for them to support the generation but if you don't create any institution, that means the generation dies. If anyone has the opportunity to better the lives of fellow Nigerians, may be you work in an office and you think you are working for the salary, then you can as well quit the job because life is too short to do what you don't like doing.
Daniel Ayo
I want to say thank you to Ships & Ports for giving every one of us this privilege. I call it privilege because it is not everyone that submitted their essays that won. I heard about the competition through a friend that won the competition last year, in the person of Uzoigwe Chimezie Daniel and he was the one that told me about it. This is the 5th time I will be among the winners of an essay competition of this kind this year. When I saw the topic of the essay, I didn't want to participate because of the sending procedure and I also want to say this as a form of recommendation that Ships & Ports should dedicate an email for this platform, so that people can send their essays by email. I believe with time the government will learn because one thing is to make recommendation and another is to implement it, we have been writing from time to time as regards education, making recommendations and publishing it. The people in authority read it but to implement it is the problem.
Ogbagba Sunday
I got to know about this essay competition on Nairaland and I felt since I was not very busy at work because I am a Youth Corper serving in Akwa-Ibom, I decided to give it a try and I am glad I did. It opened my mind to many things and exposed me to things I didn't know and ordinarily come across when I was doing the research on the essay topic, even if I was not called to come for the prize, I will still be fulfilled because I really learnt a lot on studying on my own. I really want to appreciate the organisers of the essay competition for giving us the opportunity to put in our little ideas, I believe if the leaders in this country can read the essays, they will get ideas on how to run the country.
Abel Ogechi
I want to appreciate this company, sponsors and everybody. For me, it is like as the saying goes "the hen has come home to roost". This is my industry. I almost didn't want to write because I felt I will be out of place that it should be left to the non-industry observants. I teach at the Maritime Academy of Nigerian (MAN) Oron. I am an industry person, I began way back in 2002 and the knowledge gap has always been my driving force to always try to improve myself. I won't call myself a writer, I am more or less a researcher because of the nature of my work. I have been opportuned to work in the port, on land and on the sea. Even though I didn't have the privilege to attend a maritime training school, I just kept honing my skills, working in a private sector; from one organization to the other and all those experiences put together made MAN Oron to consider me to share my experience with the students.
This industry is sick because the knowledge is not there to drive it, I see people who took over this industry as those who will be ready to forego the pecuniary gain and hammer on knowledge. Fate brought me into the maritime industry and in the course of my personal study, I find that there is close connection between economics  and maritime and then I went into maritime economics. I have written many articles and I have worked with Indigenous Ship-owners Association of Nigeria (ISAN), this is like another homecoming.
Omoju Babatunde
I am quiet overwhelmed, I learnt about the competition in 2013 and what made me interested in the competition is that it is yearly and I knew that any year, I could participate. Last year, I participated but my essay didn't make it to the winning team and I made up my mind that I will win this year. From the beginning of the year, I started listening to Ships & Ports and I subscribed through Facebook which makes me to get notification of news from their website. I find their website very interesting and informative; it is one of the few Nigerian website that where everything is organized, the picture quality is superb and is detailed. The information on the website can be used for other different things because I write a lot on different topics. One gets a lot of information from the website which makes it really good. I am very grateful and thankful to the organisers.
Bello Mayowa
Copyright Ships & Ports Ltd. Permission to use quotations from this article is granted subject to appropriate credit given to www.shipsandports.com.ng as the source.