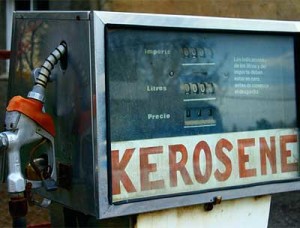 Compiled by Oluwatoyin Amao
I truly welcome the motion moved on the stoppage of importation of kerosene by NNPC only and if only they develop our local refineries that would give credence to the fact that corruption won't evolve from it and circulation will be good enough.
Oladimeji Oshode
Lagos
I don't think it will be good for the country at this point in time, looking at the retail of AGO costing N245, PMS been sold at N145 and DPK price (we will know very soon). Long term, it will be good for the country, short term, I don't think so. The private sector will now determine the price and it's going to be high at this point in time when our economy is not doing too well. It can be a blessing if local alternative is enough to meet the demand in place. It will boost our economy, if we do not just produce for ourselves but also export to other countries. Rome, after all, was not built in a day. However, it can be a curse, if it was stopped for 'stopping sake'. The masses will suffer and it'll get messy.
Ariyo Ibironke
Ilorin
Prices of Kerosene in many filling stations are still far above the Federal Government's recommended ceiling of N150 per litre. The current price ranges have been in place for over six months now indicating that there has been no significant change or compliance with the government's directive on price ceiling. Nigerian National Petroleum Corporation (NNPC), last month, announced the price, calling on petroleum marketers not to sell the commodity above the price. However, marketers are lamenting that since the product is imported, the current challenges with foreign exchange sourcing and pricing has made it impossible to comply with the recommended price.
Wunmi Kolade
Okota, Lagos
Stopping importation is not the solution, the solution is to first build and resuscitate our dead refineries, when they are active to a certain production capacity, and then the government can ban importation. Without that, banning importation of kerosene is like cutting off a head when you have headache. The problem has never been the importation but our own attitude to the production of things; an average person in Nigeria uses kerosene. Banning such would increase the price of available products in the markets; it would affect people who work part time especially those who are employed in some of these importing firms. Another thing is scarcity of petroleum products often leads to an increase in price of food stuffs in the market. Such ban would further widen the gap between the rich and the poor thus eliminating the middle class and the ban may cause a disaster i.e adulterated fuels would be sold and it may endanger the lives of people involved.
Michael Dada
Ilorin
This is the next big thing about new policy formulations which has affected our economy in many ways. The first big question is, do we have the refinery that produces kerosene and is the quantity of production able to satisfy the current demand for the usage of the fuel? I am amazed because kerosene is not only used for cooking, as the advent of gas for cooking has brought about neglect of kerosene by some people. My purview is that kerosene is not only used as fuel for cooking and the likes; it is also used for production of chemicals in factories and other manufacturing companies including cobblers. Until the government and NNPC can guarantee adequate supply of kerosene and ensure that the market price is affordable to commoners, I won't support the idea of putting ban on its importation. Another crucifix is that once kerosene importation is ban, there is likelihood of price hiking and severe scarcity, this is making an avenue for more suffering because the situation of the country is hard enough and now adding the kerosene issue to it. We want to be sure that our refineries can produce kerosene that satisfies the demand of the local market at the cheapest price available. I will advise that while the test marketing of the usage of locally refined kerosene is going on, the imported ones should still be allowed in the circulation to allow ease of access to its usage. Once satisfaction is recorded, i.e. the availability and quality, then the imported ones can be banned.
Sola Folorunso
Ibadan
Well, in my opinion, when it comes to putting a stop or a ban on something, it tends to lead to scarcity and hike in price of the product. On the kerosene issue, there were lots of scarcity and increment on it last year. Presently, it is still expensive, even more. I am in support of Nigeria generating its own resources instead of importing. But I think before we decide to put a ban on something, we should have created and put in place other visible resources. For example, our refineries are not quite functioning, so how do we intend to produce our oil and other things.Before we put a ban on importation, we should have visible alternatives so that there will be no scarcity and price fluctuations.
Olatubosun Arebi
Lagos
The stoppage of kerosene importation by NNPC is a good idea in my own view. This will enable us look inward as to reviving and making the nations refineries effective and efficient. We spend so much on the importation of kerosene that could be diverted into some more capital project of the Federal Government. Besides, DPK has become so expensive that many Nigerians have substitute such as Gas cookers and electric cookers.  However, it is suffice to know that there are still few people who can't afford to use Gas and Electricity as alternatives to the use of kerosene. So the FG, private sectors and individuals should think of other alternatives for cooking. It is time to unleash the hidden potentials of our young minds and let's see what innovation we can come up with.
Oladimeji Ayodeji.                        
Lagos
I think kerosene is an essential commodity, it is central to our living as Nigerians. If NNPC is to stop importation of Kerosene then some palliative measures are to be put in place. Getting our refineries work to its fullest potential or granting license to marketers to import Kerosene. But stopping importation without any palliative measures is as good as inflicting more pain and frustration on the poor masses.
Martins
Lagos
It is a good development provided that what the local refineries will produce will be sufficient for distribution throughout the federation. If the contrary is the case, the stoppage of importation of kerosene by NNPC might precipitate series of monumental disaster for the masses since that is the only commodity an average  Nigerian who lives below N300 per day can afford to fuel his/her stove. I feel, the government should not just attempt doing such without properly perfecting its homework so as not to make lives more difficult for the masses as we have it in the case of rice and the likes.
Samson Owolabi
Ibadan
I don't know much about the NNPC thing with importation of kerosene though I know they have sole license and it got deregulated at some point. And the new government now fixing a static price of 50 naira for a deregulated product is absurd. So it was stopped probably because of lack of marketers or to encourage the use of Liquefied petroleum gas (LPG) in household cooking.
Bade Olateru-Olagbegi
Lagos