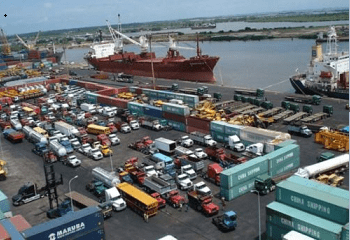 The immediate past Port Manager, Tin Can Island Port Complex, Umar Abubakar, has said that cargo traffic at the Tin Can Island Port, which is Nigeria's second busiest seaport, has dropped by 25 percent due to the coronavirus pandemic.
Abubakar, who disclosed this in an exclusive interview with SHIPS & PORTS in his office on Thursday, said the effect of the pandemic was however not peculiar to Nigerian ports, as it is a global phenomenon. 
He said, "What we used to receive (cargo) before COVID-19 came down by 25 percent. This is not peculiar to Nigeria or Tin Can Port; it is worldwide because shipping is an international business. What is happening now is not an assessment of what is happening to Nigeria but an international problem. 
"We know that while the airport had to be shut down, the seaports were not shut down because of its key status but definitely importers also are not travelling so that has affected the cargo throughput." 
Abunakar said prior to the pandemic and while he served as the Port Manager, the Tin Can port witnessed increased cargo throughput with an average of 14 ships discharged at the port weekly. 
He added that vessel waiting time also reduced from 14 days to an average of two days, a development he attributed to the efficiency of the terminal operators. 
"Pre-COVID-19, we were recording an average of one to two days waiting time for vessels to enter our port because vessels don't wait outside for many days to come in and the waiting time at berth came down to four days. 
"In fact, we have so many vessels that were diverted from Apapa to Tin Can because we were on top of it with the terminal operators. Sometimes in a week, we have about 19 to 14 ships in just the main port. Also, the volume of empty trucks that access the port per week is an average of 7,000," he said. 
On the ongoing reconstruction of the Tin Can Island Port access road, which has worsened traffic gridlock within the port axis, Abubakar said although the situation is making delivery of consignments and trucks getting into the ports difficult, the port management has encouraged the use of barges, which he said has greatly improved cargo delivery out of the port.
"If you know the volume of cargoes moved by barges, you will know that it has helped a lot. The use of barges is another means of logistics in transportation and we are regulating their operations. Some terminals move about 7,000 containers per week through barge. So it has helped a lot in movement of containers out of the port," he said.
On the backlog of containers at the ports due to the coronavirus lockdown, Abubakar lamented that despite the free storage period granted to importers by terminal operators to clear their consignment; most of them were not forthcoming to take delivery, noting that space constraint has remained a major challenge faced by terminal operators.