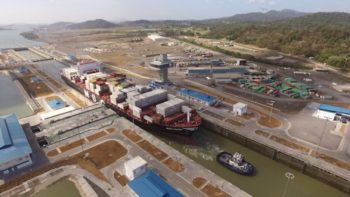 The expanded Panama Canal on Monday celebrated its first year of operations "which exceeded by 25% all our expectations," Panama Canal Authority Administrator Jorge Quijano said. 
Since the inauguration of the third set of locks, 26 June 2016 with the transit of the 9,400 TEU Cosco Shipping Panama, some 1,535 neo-panamax vessels, to date,have transited through the new locks.
"Our forecast did not include the mix of cargo we have seen in the expanded Canal during this first year of operations," he says.
The 10,500 TEU Hapag Lloyd Valparaiso Express will have the honour to enter history and commemorate today the expanded waterway anniversary.
On June 20, Cosco Glory became the 1,500th neo-panamax to transit the new locks. However, most of the neo-panamax were of the range of 10,500 TEU, increasing the Panama Canal tonnage by 22.2% during the period 26 June to date if comparing the same period in 2016 and 2017.
"The surprise was to see three neo-panamax vessels of over 13,000 TEU during this past month of June, one a week due to the service Ocean Alliance where they went to 13,000 TEU up from 10,500 TEU. We did not expect it," said Quijano. "And we saw some 15 new liner services transiting through the new locks since the inauguration."
MSC is so far the first user of the expanded Canal, 11.9%, followed by MOL, 10.9%, Shell, 8.5%, Evergreen, 7.6%, Helios, 5.3%, Cosco, 4.9%, Swiss Marine, 4.5%, BW Gas, 3.6%, Cheniere marketing, 3.5%, CMA CGM, 3.1%, Yang Ming, 2.9%, K Line, 2.8%. Three big liners are at the bottom of the scale with NYK, 1.7%, Maersk, 1.5% and Hamburg Sud with 1.0%.
An average of 5.9 vessels daily transit the expanded Canal, surpassing the original forecast of two to three during the first year of operation. Boxships represent 51.3% of traffic, followed by liquefied petroleum gas (LPG) carriers and liquefied natural gas (LNG) carriers, which represent 31.5% and 9.1% respectively. Other segments such as bulk carriers, tankers, car carriers, and passenger vessels have also transited the new locks.  The months of January and February were the peak for LNG transits from the US Gulf, Houston and Sabine Pass. "All the new constructions of LNG vessels have now the dimensions to transit through the expanded Canal," Quijano adds.
Forecast for fiscal year 2017 [October 1 to September 30] point at 391m tonnes and 12,789 transits and "we have seen new players arriving in the lead since Japan has is now the 4thcustomer before Chile while Mexico and Colombia have climbed the ranks because of their imports of LPG and LNG," comments Quijano. "We even had for the first the transit of an Equatorial Guinea LNG vessel going to Mexico."
Panama's recent decision to open diplomatic relations with China "will not impact the number of transits through the waterway since it is the second largest user of the canal but it will definitely improve [Panama] commercial relations with this country."