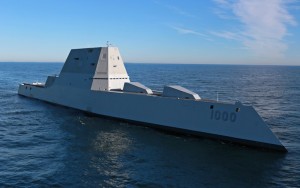 The U.S. Navy's newest and most high-tech destroyer is stuck in Panama after suffering an engineering casualty during a transit of the Panama Canal and just one month after the US Navy's newest Littoral Combat Ship suffered damage in the canal during a return visit to shipyard after multiple engine failures.
A U.S. Navy statement said the destroyer, USS Zumwalt, was on a southbound transit of the canal on Monday when it suffered the casualty and had to be towed to a berth. Zumwalt is now stopped for repairs at the former U.S. Naval Station Rodman, the statement said.
The USS Zumwalt (DDG 1000) is en route to its homeport of San Diego following its commissioning in Baltimore in October.
Third Fleet spokesman Cmdr. Ryan Perry issued a statement late Monday:
"Vice Adm. Nora Tyson, commander, US Third Fleet, has directed USS Zumwalt (DDG 1000) to remain at ex-Naval Station Rodman in Panama to address engineering issues that occurred while transiting the Panama Canal. The timeline for repairs is being determined now, in direct coordination with Naval Sea Systems and Naval Surface Forces. The schedule for the ship will remain flexible to enable testing and evaluation in order to ensure the ship's safe transit to her new homeport in San Diego."
The repairs are expected to take up to ten days.
The 610-foot USS Zumwalt is the lead ship of the new Zumwalt-class, the U.S. Navy's next-generation, guided-missile naval destroyer. The class features a state-of-the-art electric propulsion system, a wave-piercing tumblehome hull, a stealthy low radar profile design, and the latest war fighting technology and weaponry available.
The destroyer is also first U.S. Navy combatant surface ship to be equipped with an integrated power system (IPS) providing approximately 78 megawatts of electric power for all propulsion and ship services needs.
Monday's casualty in the Panama Canal is the second suffered by the destroyer since departing Bath Iron Works in Maine in September. During at sea testing on September 19, the ship suffered a seawater leak in its propulsion system.
"The crew discovered the casualty after detecting a seawater leak in the propulsion motor drive lube oil auxiliary system for one of the ship's shafts," U.S. Naval Surface Forces said in a statement at the time.
Following the incident the destroyer underwent repairs at Naval Station Norfolk before continuing to Baltimore for its commissioning Oct. 15.
Upon arrival in San Diego, the destroyer is scheduled to take part in a Post Delivery Availability and Mission Systems Activation and is expected to be integrated into the fleet in 2018 following test and evaluation.
Bath Iron Works, part of General Dynamics, has been commissioned to build three Zumwalt-class destroyers for the U.S. Navy, Zumwalt (DDG 1000), Michael Monsoor (DDG 1001) and Lyndon Johnson (DDG 1002).
.
We pay for your stories! Do you have a story for Ships & Ports? Email us at [email protected] or call 0810 359 4873. You can also WhatsApp us here. We pay for videos too.

 

Copyright Ships & Ports Ltd. Permission to use quotations from this article is granted subject to appropriate credit given to www.shipsandports.com.ng as the source.