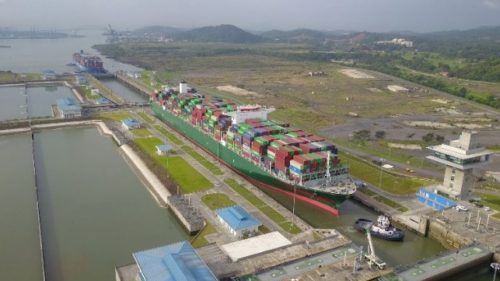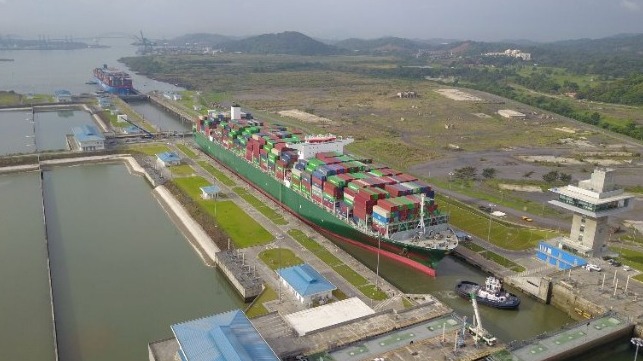 The Panama Canal completed a trial transit of Evergreen's Triton, the largest ship by dimension and container cargo capacity to pass through the Expanded Canal since it opened in 2016.
The Triton has a Total TEU Allowance (TTA) of 15,313, a 20-row beam of 51.2 meters and a length of 369 meters. It transited the canal northbound from the Pacific to the Atlantic Ocean.
"We are excited about the opportunities enabled by the Triton's trial transit," said Panama Canal Administrator Jorge L. Quijano. 
"Our team continues to offer the additional capacity, and deliver on our promise to provide unparalleled safe and efficient service to our customers. Today's transit surpassed the 15,000 TEU vessel threshold, establishing a new record in terms of total TEU capacity."
Making the Triton's transit possible, the Panama Canal Authority increased maximum allowable beam from 49 meters to 51.25 meters back in June 2018. The increase also paved the way for the first transit of a Q-Flex LNG carrier on May 2012. The Panama Canal Authority noted that the Triton actually exceeded the waterway's established vessel length of 366 meters.
"Today's milestone marks a new era for containerships at the Expanded Canal," said the Panama Canal's Senior International Trade Specialist Argelis Moreno de Ducreux. 
"We look forward to collaborating on similar opportunities in the future as liners continue to reroute services and consolidate cargo on larger vessels."
The Triton is deployed on Evergreen's Far East – United States East Coast (AUE) service as part of the OCEAN Alliance network, which connects Asia and U.S. East Coast ports via the Panama Canal. The AUE service is comprised of 11 vessels ranging in size from 8,000 to 14,000 TEUs. The Alliance includes China COSCO Shipping, Orient Overseas Container Lines (OOCL), CMA CGM Group and Evergreen.
The record for largest containership to transit the Canal by capacity was set on August 22, 2017 by the CMA CGM Theodore Roosevelt, which measures 365.96 meters in length and 48.252 meters in beam and had a 14,863 TTA.
Of the 6,000 Neopanamax vessels that have transited to date, nearly 50 percent have been from the container segment.
Copyright Ships & Ports Ltd. Permission to use quotations from this article is granted subject to appropriate credit given to www.shipsandports.com.ng as the source.