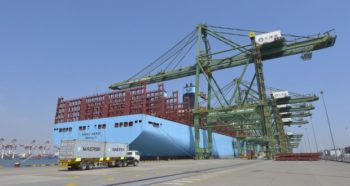 The latest ultra-large container vessel (ULCV) to wear the crown for the title of the 'world's largest containership', and one of the first vessels to surpass the 20,000 mark, has entered into service with its maiden port call in China.
Maersk Line confirmed Tuesday that on 27 April 2017, Madrid Maersk, a 20,568 TEU containership and the first of Maersk Lines' 2nd generation Triple-E, called the Port of Tianjin in China. This was the first port on its maiden voyage as part of Maersk Lines' Asia – Europe service network.
Delivered in April, Madrid Maersk is the first of eleven 2nd generation Triple-E vessels, which Maersk Line ordered in 2015 from South Korea's Daewoo Shipbuilding & Marine Engineering (DSME). Its arrival comes four years after delivery of the first Triple-E vessel, Mærsk Mc-Kinney Møller, which was the first ship to surpass the 18,000 TEU benchmark and set the standard for today's ULCVs.
Although the 2nd generation Triple-E's are built to nearly the same dimensions as the first, at 399 meters long, the new Triple-E's are made to be 7% more efficient, with the ability to carry 2,000 more containers than their predecessors.
Not only is the Madrid Maersk notable for its size, but also it is also the first of the 27 ships to be delivered to Maersk Line by the end of next year. Prior to its delivery, Maersk Line has not taken delivery of any new ships since July 2015.
Maersk Line's remaining orderbook consists of ten 2nd generation Triple-E vessels, nine 15,226 TEU, and seven 3,596 TEU container vessels. The new vessels will replace older and less efficient tonnage as they enter service. Maersk Line says the orderbook corresponds to 11% of its current fleet – a relatively small ratio compared to the industry's average orderbook of around 15%.
"Our strategy is to grow in line with our main competitors and we do that through a combination of buying new and used ships, and chartering vessels" says Søren Toft, Chief Operating Officer, Maersk Line. "These new vessels help modernize our fleet, significantly improve our operational efficiency and will help us achieve our growth ambitions, regardless of short-term economic cycles."
To stay competitive and ensure lower costs for shippers, Maersk Line says it will continue to manage its fleet capacity tightly. For example, Maersk Line notes its relatively high number of vessels on short term charters. "This gives Maersk Line the flexibility to adjust fleet capacity when new vessels come on-stream. Maersk Line is also recycling old and more inefficient vessels. In the first quarter of 2017, Maersk Line recycled seven Panamax vessels," the company said in a press release.
The press release went on to discuss more of Maersk's reasoning for adding capacity in a market that already has too many ships:
Reflecting the need for the new capacity is Maersk Line's head haul utilisation rate, which hit an average of 93% in 2016, leaving little room for growth without additional capacity. And while overcapacity remains a problem for the container shipping industry, the 27 new vessels coming into Maersk Line's fleet are equal to just 11% of Maersk Line's current fleet, compared to an industry average of 15%.
"If you look at our current order book and also the capacity we are able to return to charter owners, which is roughly 20%, we are in a pretty good position," says Toft.
"We are expecting to grow this year, and expecting global growth of about 3%, but if those things don't happen we also have a powerful ability to adjust our network to changing conditions in a way that many other shipping lines do not have."
It is what Maersk Line calls active capacity management and it includes other tools like recycling old ships and idling unneeded ones among others, to help it more accurately match supply with demand in its network. The decision to delay the second order of the 15,226 TEU H-Class ships by six months is also an example.
Although the Madrid Maersk is currently the biggest by carrying capacity. It is not the first ship to surpass 20,000 TEUs. That title belongs to the 20,150 TEU MOL Triumph, belonging to Japanese container shipping company Mitsui O.S.K. Lines (MOL).   
Copyright Ships & Ports Ltd. Permission to use quotations from this article is granted subject to appropriate credit given to www.shipsandports.com.ng as the source.