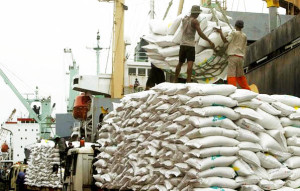 Considering the challenge of food security globally, the importance of rice as an agricultural crop cannot be ignored especially since it is the staple food for over fifty percent of world's population and a great resource to assuage the food security issues of nations.
Considering the importance of rice, the year 2004 was declared as the international year of rice by, the United Nations Food and Agricultural Organisation (FAO).
Rice is cultivated over one hundred countries in the world. Reports show that within 2011-2012, rice production in the world was 718.345 million tons and it was cultivated over an area of 163.463 million hectares.
Rice is the most economically important food crop in many developing countries and has also become a major crop in many developed countries where its consumption has increased considerably. Over the years it has become more than necessary to meet the demand of the world's increasing population growth rate, and the least costly means for achieving this aim is to increase rice productivity, wherever possible. In Nigeria the main challenges encountered by rice processors are to find appropriate solutions for quality rice processing.
Professor Wilfred Ifeanyi Okonkwo of the Department of Agricultural and Bio-resources Engineering, University of Nigeria, Nsukka, Enugu State, said as the country's population expands, demand for rice is projected to rise from 5m metric tonnes to 36m metric tonnes by 2050, noting that what government needs now is urgent import substitution programme for rice, or else Nigeria will spend about $150b importing rice by 2050.
Rice consumption in the country has risen tremendously at over 10% per annum due to changing consumer preferences. From studies most Nigerians prefer to consume imported rice brands as compared to local rice varieties. The reason has been that most Nigerian rice processors lack adequate technology of rice processing to meet international standard.
A number of constraints limit rice production in the country. These include problems with research, pest and disease management. Addressing at least most of these problems is good step towards attaining the target of rice self-sufficiency.
Over the years, Nigeria has become the highest rice productions country in West Africa and the third largest in Africa, after Egypt and Madagascar. The production reached the peak in 1990 in which the country was producing 3.4 million tons of rice from about 1.2 million tons before it slightly fluctuated down the slope in 1993.
However, the production soared up from 1993 to 2006 where the production remains 3.8 million metric tons. This was attributed to increase in population growth as well as increase in consumption trend of rice in the country. This healthy production trend would have been sustained but for the unsteady government policy on rice imports.
Dr Adeladun Stephen Ajala, Department of Food Science and Engineering, Ladoke Akintola University of Technology, Ogbomoso, Nigeria believes that increased production over the last two decades could be attributed to the ban imposed on rice imports in 1985 and if this restriction had been maintained, Nigerian rice farmers would have risen to the challenge of meeting the domestic demand for the commodity.
This has not been the case; however, as the government slackened rice import restriction in 1997, the resultant effect was that foreign rice flooded back onto Nigeria markets. Restrictions on rice imports were reintroduced later in 1997, and local production increased in response to the attractive prices offered. Since then, import restriction on rice import has been a regular feature even up to the present government of Muhammed Buhari.
Buhari said the government has made rice farming a priority.
Nigerians' appetite for rice means that the country imported nearly 17 million tonnes of it over the past five years. Duties for imported rice are currently 60 per cent and consumers have seen the price of a bag of rice doubled in the past 12 months.
Many domestic players have been entering the market. Olam, a multi-national agribusiness, set up a rice farm in 2012 in response to government's calls for local players to help feed the 170 million Nigerians.
Yet the drive to cut an annual food import bill of $20 billion has run into the kind of problems that have long bedeviled Nigeria's efforts to build up an economy outside its dominant the oil industry.
Despite rice growing being a government priority, many farmers still work with their bare hands in fields lacking irrigation channels. Mills are often ramshackle while poor roads make getting the crop from the main growing areas in northern Nigeria to consumers in the south difficult and costly.
As a result, the industry has so far failed to fill a supply shortfall amounting to about 3 million tonnes of milled rice created by the import ban. In the commercial capital of Lagos, supermarkets mainly sell rice from India or Thailand.
As was rightly observed, rice constitutes a staple food among Nigerians that the demand has always exceeded the supply. Because of this reason, Nigeria has a favourable market for rice production. However, because of the poor quality of locally produced rice, most consumers prefer the imported rice from other countries.
Rice processing involves several steps: removal of the husks, milling the shelled rice to remove the bran layer, and an additional whitening step to meet market expectations for appearance of the rice kernels. This process generated several streams of material which include the husks, the bran, and the milled rice kernel.  In the country the adoption of the right instruments for rice processing has been highly limited forcing stakeholders to declare that it would take longer than expected for Nigerian rice millers to produce enough for local consumption before we talk of export.
But stakeholders in the agricultural sector have called for more support for local rice farmers in the country so as to be able to meet local demands and still have enough for export to earn foreign exchange for the country.
Chairman, All Farmers Association of Nigeria (AFAN), Femi Oke, said Nigerians need to be patient that with time Nigeria will be self-sufficient in rice production if necessary support is given to farmers.
Also, Prof Okonkwo said "Government should encourage the building and acquisition of integrated rice mills and commercial rice production to meet with international quality grade milled rice. Efforts of some companies like Miva and Ashi rice in Benue State, Ebonyi rice, Umza rice in Kano and Dominion Farm and others should be supported to boost rice production in Nigeria," he stated.
Many believe that while efforts are being made by local rice millers to step up production, their lack of technological support by the government poses a lot of hindrances. But the Minister of Agriculture and Rural Development, Audu Ogbeh had disagreed with this argument of lack of support by the government.
Chairman, All Farmer's Association of Nigeria (AFAN), Ogun State Chapter, Segun Dasaolu, said government needs to assist farmers in the areas of land clearing, provision of inputs and encouragement on irrigation, so that planting of rice will be all season.
"In the south, there is need for land clearing for farmers, when you clear the land, give them inputs and encourage irrigation, so that during dry season they can cultivate rice all season. Irrigation should be encouraged in all the possible areas, as doing that will assist local farmers to go into large scale farming, instead of planting on small of expanse of land," he said.
Ogun State Commissioner of Agric, Ronke Sokenu, advised that government should as soon as possible accommodate young farmers to close the gap of rice production, to attain its food sufficiency plan. She added that there is need to also give farmers the needed support, in terms of provision of inputs and other supports, along the value chain
But in the face of these concerns, Audu Ogbeh, said in a forum in Abuja recently that the Federal Government was doing everything possible to achieve self-sufficiency in rice production before the end of 2018. He said there were strong indications that Nigeria would become self-sufficient in rice production by 2018 because many farmers had rediscovered their potential in rice farming.
"Nigerians have discovered that Nigerian rice is better than rice from Thailand and Vietnam, which are the largest producers of rice in the world. "We are in a rivalry with the two countries for now and we will soon overtake them in rice production and take over the market from them.
He said People in Thailand do not eat parboiled rice but white rice and so all the parboiled rice they produce is exported to Nigeria.
"Nigeria is the biggest consumer of imported rice in the world. By so doing, we are transferring our jobs to these two countries and leaving our teeming youths angry and hungry,'' he said. The minister, however, said that rice production in the country had improved appreciably, particularly in states like Anambra, Ebonyi, Enugu and Imo. Ogbeh said that in the northeastern part of the country, Kebbi, Kano, Jigawa, Sokoto, Katsina and Zamfara states were taking due advantage of their dams by engaging in rice production as well.
He said that the Federal Government had just imported 110 rice mills, adding that the mills would soon be distributed to communities across the country. Ogbeh said that the gesture was aimed at boosting the production and income of rice farmers, and some of the rice mills could mill 50 tonnes of rice per day. "We are distributing the mills to communities, under a programme called `LIFE', which entails taking industries to villages, because we don't have the whole population in Abuja, Lagos, Enugu, Port Harcourt or Kano.
"We will satisfy our demand for rice. By so doing, we will be creating 20 million jobs in the villages and saving about five million dollars used for the importation of rice daily." The minister explained.
Copyright 2017 Ships & Ports Ltd. Permission to use quotations from this article is granted subject to appropriate credit given to www.shipsandports.com.ng as the source.