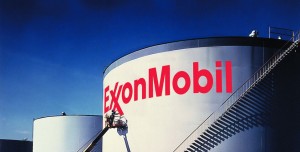 ExxonMobil reported a big drop in fourth-quarter earnings Tuesday, as low oil and natural prices continued to weigh on results.
Net income in the fourth-quarter plunged 39.6 percent to $1.7 billion, while full year earnings fell by more than half to $7.8 billion.
Results also were marred by a $2 billion asset downgrade due to low prices, much of it due to impairments in a natural gas region in the Rocky Mountains in the middle of the United States.
The asset write down resulted in a loss of $642 million in ExxonMobil's normally lucrative upstream business, which explores for and produces petroleum.
That was countered by $1.2 billion in earnings from ExxonMobil's downstream business, which refines crude oil into gasoline and $872 million in chemicals.
ExxonMobil chief executive Darren Woods said, "Financial results for the year were negatively impacted by the prolonged downturn in commodity prices and the impairment charge."
The charge followed a review of assets in the wake of "continued weakness in the upstream industry environment during 2016, continued weak financial results for several assets in North America, and a reduction in the mid-point of the ranges of the corporation's long-term oil and natural gas prices," the oil giant said.
Shares of ExxonMobil were up 0.1 percent at $84.90 in pre-market trading.