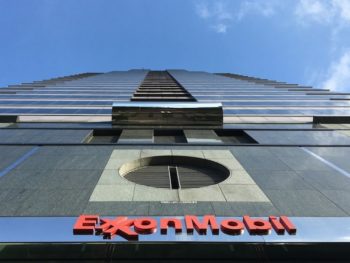 Mobil Producing Nigeria Unlimited and Shell Petroleum Development Company of Nigeria Limited recorded the biggest decline in production from joint venture assets in the first quarter of this year.
The subsidiary of the United States-based ExxonMobil Corporation saw its JV output drop from 11.646 million barrels in January last year to 6.2 million barrels in March this year, according to the latest data obtained from the Nigerian National Petroleum Corporation.
Production from Mobil Producing Nigeria hit a record low of 1.5 million barrels in August from 5.083 million barrels the previous month.
The oil major, which remains the biggest producer onshore, posted a 36 per cent decline in its production in the first three months of this year compared to the same period last year.
It produced 21.913 million barrels in the first quarter of this year, down from 34.193 million barrels in the same period last year, the NNPC data showed.
The SPDC saw its JV production plunge from 5.256 million barrels in January last year to 2.815 million barrels in March this year.
The company, whose output dropped to as low as 2.191 million barrels in August, lost its status as the third biggest producer onshore to Total E&P Nigeria Limited.
Shell's production onshore also fell by 36 per cent in the first quarter of this year from the 14.272 million barrels recorded in the same period last year.
Chevron Nigeria Limited, whose production declined from 5.42 million barrels in January 2016 to 4.031 barrels in May that year, has recovered significantly in recent months. Its output rose to 5.702 million barrels in March this year from 4.533 million barrels in February and 5.373 million barrels in January.
The company recorded about five per cent decline in output in the first quarter of this year from 16.375 million barrels in the corresponding period of last year.
Total E&P Nigeria has seen its production increase from 2.846 million barrels in January last year to 4.031 million barrels in March this year.
The decline in the international oil companies' production in the country is not unconnected to the resurgence of militant attacks in the Niger Delta last year.
Last month, the SPDC lifted the force majeure on exports of the country's Forcados crude oil, after over a year of shutting down the Forcados terminal, which was attacked in February 2016.
According to the NNPC, at Forcados terminal alone, about 300,000 barrels per day of oil were shut-in following the declaration of the force majeure on February 21, 2016.
Meanwhile, the country's crude oil for August loading was said to be proving slow to find buyers amid rising supply, Reuters quoted oil trading sources on Wednesday, a sign that an expected second-half rebalancing of the global market is getting off to a slow start.
An increase in production in Nigeria and Libya, where conflict and unrest had curbed output earlier this year, is adding to the volume of light, sweet crude looking for buyers in the Atlantic Basin, despite a supply cut by the Organisation of Petroleum Exporting Countries and others to get rid of a surplus.
Oil traders said there were at least 40 unsold August-loading Nigerian cargoes looking for buyers, the equivalent of almost half of daily world demand and a higher volume than at similar points in earlier months.
The report said, "It's starting to clear but there are still 40 plus left," said a trader, who said the excess supply for August loading was higher than earlier months as production has increased.
"It's more because there is a much bigger programme in August. It's slow on Nigerian."
Lingering cargoes of crude from Nigeria, Africa's biggest exporter, have been a feature of the market this year, weighing on prices since Nigeria's crude is sold in relation to Brent, the global benchmark.
Such signs of excess should start to be less visible in coming months if, as analysts like the International Energy Agency forecast, the global market tightens in the second half of the year helped by the OPEC cut.
But Nigerian exports are set to exceed two million bpd in August, a 17-month high. And on Tuesday, the head of the IEA said further increases by key producers could hamper the rebalancing.
To be sure, traders said some Nigerian crude grades for August were selling well, such as distillate-rich crude Forcados; and traders said the number of remaining July-loading cargoes had dwindled to less than 10.