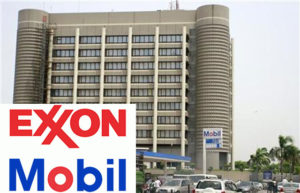 The workers of Mobil Producing Nigeria Unlimited, an affiliate of ExxonMobil, have commenced a three-day warning strike, starting today, in objection to the alleged flouting of the local content Act by the company and sacking of Nigerian workers among other issues.
The workers, who are members of the Petroleum and Natural Gas Senior Staff Association of Nigeria (PENGASSAN), said they would proceed on an indefinite strike on Monday if nothing was done to address the lingering issues.
The Vice Chairman, Exxonmobil branch of PENGASSAN,  Gbenga Ekundayo, alleged that the oil company was in the practice of disengaging Nigerian workers and replacing them with expatriates, thereby aiding capital flight.
The PENGASSAN Lagos States Chapter Secretary,  George Olumoroti, also cited an instance when the company had disengaged three Nigerian workers and replaced them with 28 expatriates, whose salaries and allowances amounted to $1,600 per day each.
The workers had last year December protested against the sacking of about 100 workers and in the process, shut down activities at the Qua Iboe Terminal of the company in Akwa Ibom.
The workers had said the company refused to complete negotiations with the union before embarking on the disengagement of the workers.
However, Ekundayo said matter had degenerated and the company had breached the agreement reached after interventions of the Minister of Petroleum, Dr. Ibe Kachikwu, the national union and other stakeholders.
According to him, a communiqué was issued at the end of the meeting with stakeholders and it was agreed that the 83 affected employees should remain on the payroll of the company but should not return to work pending the review of the ministerial committee.