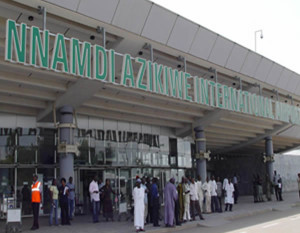 The Federal Airports Authority of Nigeria (FAAN), yesterday, conducted a mock air crash rescue operation at the Nnamdi Azikiwe International Airport Abuja (NAIA) to assess its readiness to respond to air crash and other emergencies.
The mock exercise which held within the airfield saw participation from all relevant agencies in the case of an emergency. Some of the agencies involved in the exercise included, the Nigeria Police, the DSS, the Federal Road Safety Corp (FRSC), Ports Health, FAAN's Fire Service Department, aviation security, Civil Defence and several others.
FAAN's Director of Operations, Capt. Rabiu Yadudu, said the exercise was a success, adding that FAAN and other supporting agencies were ready for any eventuality at the airport and its environs.
He said the exercise was in fulfilment of the Nigerian Civil Aviation Authority (NCAA), regulations on safety and emergency response in Nigerian airports. Yadudu said the NCAA regulations stipulated that such simulation exercise be carried out in every airport once in two years.
Airport Manager, NAIA,  Mahmud Sani, said the exercise was to test FAAN's capability to respond to air crashes around the airport and to meet NCAA's requirement for airport certification.
He said, "This was meant to test the safety and emergency plan of the airport in preparation for its certification", adding that, "the exercise was also aimed at examining how the response agencies managed and responded to emergencies at the scene of accident."
Deputy General Manager, Airport Response and Fire Services, FAAN, Rimdap Nantim Dontur, who coordinated the fire response, said the exercise was meant to test the emergency response and collaboration procedures at the airport.
Dontur said the air crash simulation exercise was to also help ascertain the level of coordination among the response teams at the scene of accident.
The Director of Aerodrome and Airspace Standard, NCAA, Odunayo Mohammed, who witnessed the mock exercise, said the exercise was part of NCAA's requirements for certification of airports.
Mohammed added that the aim of the simulation was not to give pass mark but to ensure safety standards were maintained in all airports.
He said accidents were unexpected occurrences that we must be prepared for and that that was why this simulation exercise was required.