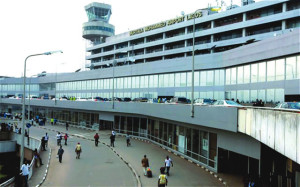 The Managing Director, Federal Airports Authority of Nigeria (FAAN), Saleh Dunoma, says the agency has recorded some achievements in the improvement of infrastructure in airports nationwide under President Muhammadu Buhari's administration.
Dumoma disclosed this in an interview on Thursday in Abuja.
He said that FAAN had enjoyed unflinching support from the Federal Government in the last two years resulting in the complete rehabilitation of the runway of Nnamdi Azikiwe International Airport, Abuja.
The FAAN boss also said that the completion of the Kaduna International Airport terminal and others like Kano, Abuja, and Lagos that were near completion were other achievements of FAAN.
He added that the certification of Lagos and Abuja airports were another manifestation of the government's commitment to repositioning the nation's aviation sector.
"You would recall that recently, this government supported FAAN through the Ministry of Aviation and rehabilitated the runway of the NAIA, during which we transferred our operations to Kaduna Airport.
"One of the greatest achievements of FAAN ever is the certification of our two airports because, according to Abuja Declaration, International airports in this continent are supposed to be certified.
"Certification means compliance with the International Civil Aviation Organisation (ICAO) safety standards.
"The certification was supposed to be done 11 years ago, but unfortunately, we could not. But in two years of this administration we have been able to certify two.
"We will continue to certify the airports in accordance with ICAO recommended practices and the Nigerian Civil Aviation specification,'' he said.
Dumoma disclosed that the agency was presently developing a business case to enhance its revenue generation to be able to embark on capital projects in the airports without recourse to funding from government.
He explained that the Transaction Adviser was working on how to develop a model that would assist FAAN to achieve the objective.
According to him, FAAN does not depend on federal budget for its recurrent expenditure as it has not been getting anything from the government coffer in the last two to three years.
"We generate our revenue, we pay our workers, and we maintain our airports and so on and so forth.
"FAAN is trying to make sure that it enhances its revenue in order to make sure that it provides the service that is required to provide.
"We are also planning that in future as the revenue improves, we will also go into some semi capital projects,'' he said.