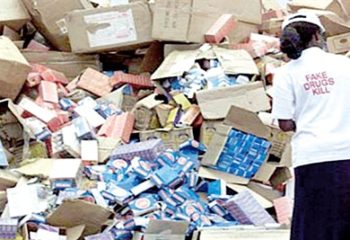 President, China-Nigeria Chamber of Commerce (CNCC), Ye Shuijin, on Tuesday claimed that most of the imported fake products found in various markets in Nigeria were not imported from China.
This claim is however contrary to prevailing facts as several consignments of substandard goods imported from China have been seized at various times at the ports and in markets by officials of Nigeria Customs Service (NCS) and the Standards Organisation of Nigeria (SON). 
Shuijin however said CNCC and SON have reached and an agreement to check influx of substandard products into the country.
"Most of the substandard products that came to Nigeria are not from China because Chinese government has well structured standards in place for its products.
"China products are of high quality nonetheless Chinese government is already cooperating with the Nigerian government to promote importation of quality products to Nigeria," he said.
The quality of imported products like iron rods, bulbs, sockets, cables and fittings have always a source of worries in the country.
SON raised an alarm in 2016 that 40 per cent of electrical and electronic appliances imported into Nigeria from China "are substandard and have caused disasters with destruction to lives and property." 
SON also observed that all manner of uncertified food items are dumped in the country.
The CNCC boss therefore stressed the need to guide the importers to do the right things and not to import substandard products into Nigeria.
Shuijin urged the importers and the consumers to be vigilant and reject any noticed substandard product.