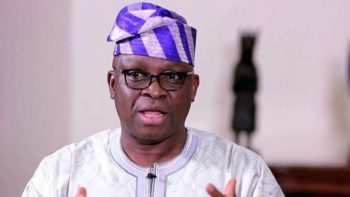 Ekiti State Governor Ayodele Fayose on Wednesday called on the Federal Government to publish all the properties it claimed to have recovered and their owners as well as buyers of the properties before selling them off.
Fayose said Nigerians deserved to know how many properties were recovered and who bought them as well who authorized the sale.
The governor's statement followed President Muhammadu Buhari's recent remarks that the Federal Government would sell all recovered properties from looters and use the proceeds to fund projects.
A statement by Fayose's Special Assistant on PublicCommunications and New Media, Lere Olayinka said: "the Federal Government should create a website where all the properties recovered by the Economic and Financial Crimes Commission (EFCC) and to whom they were sold will be listed so that by one click, Nigerians will have information."